If you would like to adopt a county in Oklahoma, visit okgenweb.net
<<+++>>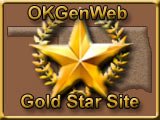 <<+++>>
History of Choctaw

<<+++>>
War Deaths
<<+++>>
1910 Census index
1930 Census indexes
<<+++>>
Court Records

<<+++>>
County Picture Pages
Red Oak City, Picture Page
County School, Picture Page
Wilburton City, Picture Page
New! Mystery Photos
Latimer County District Court
109 N. Central Street
Wilburton, OK 74568-2440
Telephone: (918) 465-2011
Latimer County was originally from parts of Gaines, Sugarloaf, Wade, and Sand Bois Counties, Indian Territory, Choctaw Nation. Latimer County was created at statehood in 1907. The County was named for
J. S. Latimer, the Representative to the Constitutional Congress from this area.
<<+++>>

<<+++>>

Latimer County Historical & Genealogical Society

<<+++>>

Choctaw and Chickasaw Data