Washita County History
Washita County is directly south of Custer County and north of Kiowa County, with Caddo County on the east and Beckham County on the west.The Washita River drains most of the area, but the southwestern corner has tributaries that flow into the North Fork of the Red River.

The Great Western Cattle Trail crossed the landscape of Washita County in 1874.

The area was settled originally in 1886, when John M. Seger, a white man, established a colony on the banks of Cobb Creek. The settlement being at the site of present-day Colony in eastern Washita County.

A part of the Cheyenne-Arapaho lands which opened to settlement in the Land Run of April 1892. Designated as County "H" before statehood, it was named Washita after the Washita River.


A US Naval Air Station was established at Burns Flat during World War II, but closed after the war. It was again reopened in 1950s as the Clinton-Sherman Air Force Base and then closed again in 1970s.
.
.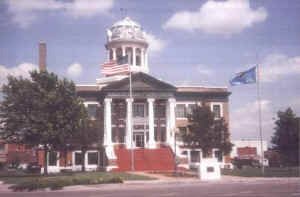 Courthouse address
Washita County Military Honored
Visit our Neighbors
Beckham County Caddo County Custer County Kiowa County