Beckham County Background
Beckham County, Oklahoma was formed in 1907 from Roger Mills County.
The part south of the North Fork of the Red River was once part of Greer County, Texas.



Delhi and Sweetwater are both on an 1895 map of Oklahoma Territory and Greer County, Texas,and are probably the oldest towns in the area.
The county was named for a former Governor and U.S. Senator of Kentucky, John Crepps Wickliffe Beckham.
Birth records are available from 1908, marriage records from 1907, and death records since 1908. Land records exist since 1900, while probate and court records are on file in the county courthouse since 1907.
The address for the county courthouse is:
Beckham County Courthouse
302 E. Main St.
Sayre, Oklahoma 73662
(580) 928-2457
If you are planning a trip to Beckham County to do research at the courthouse, or go traipsing through cemeteries, here are some places to stay.
Beckham County, located in far western Oklahoma, is surrounded by the counties of:
Roger Mills, Custer, Washita, Kiowa, Greer, Harmon in Oklahoma
In Texas the counties of: Wheeler and Collingsworth
Beckham County Towns
Populated places of Beckham County:
Carter - Delhi - Doxey - Elk City - Erick - Hext - Mayfield - Sweetwater - Sayre - Taylor - Texola
Would you like to help look up information for others, in the courthouse, libraries or cemeteries, for free? To join our volunteers send an e-mail to Coordinator.
A very special thanks to Darla Hoffman for being our lookup person for 7 years in Beckham county, to David Morgan for being the webmaster for the years1998-2006, to Fred Dittmarr, webmaster through 2007.
---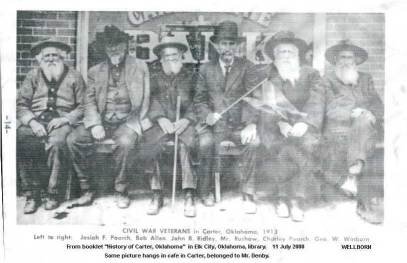 Civil War Veterans in Carter, Oklahoma 1913
Josiah Poarch, Bob Allen, John Ridley, Mr. Rushaw, Charlie Poarch, George Wellborn
Pictures of interest
Can anybody identify this school? (208 kb) The picture was taken on April 23, 1933 and most of the students were from Erick, Hext and Delhi. It is the 3rd grade class of Miss Reynolds. The only student identified is Margie Seely, in the back row to the right, and circled. Photo contributed by Gayle Hennington-Van Horn
Elk City High School Class, 1925
Submitted by Dee Crye
Mitchell Henry Anderson family, 1900-1902, Sayre
Left to right, top row: Hattie, Mollie, Hallie and Garnett
bottom row: Joe Dal, Lovicia, Mac, Mitchell Henry, Bonnie and Stella
Photo courtesy of Ruth Padilla
Statehood Celebration at Erick - 1907
Thanks to Robert Sauls, who says that a big blowup of the picture will show Bonebrake's Hardware in the background. Can anyone identify the people?
Cornelison Family of Erick, about 1910


Top, left to right: Bill, Spicey, Laura, Mary Elizabeth Campbell Cornelison,
George Washington Cornelison, Carrie, Bertie, Anna, Jesse, Effie
Bottom, left to right: Zada, Babe (Ila), Porter, Leroy, Claude, Ira, George
Texola School about 1906
The girl standing in back, second from left, is Jess Ruth Vines, born
1894, daughter of Benjamin M. and Adeline Florence Vines. Phote courtesy
of Bruce Mason.
Hext School about 1912 (60 KB)
Little girl with ME written on her is Willine Hare Bell. The older girl
with YOU written on her is her older sister Agnes Hare Craig. They were
the children of William and Prussia Sharp Hare. Thanks to Ira Sharp (Tootie) Dennis
who has a web site with 1000s of pictures.
Teachers at Delhi - 1920s
Edna Snow Gilliland was the high school principal at Delhi 1926-1928.
She is the second from the right in the white dress and hat. Can
anyone identify the others? Photo courtesy of Darla Gilliland Hoffman
Price Family at Delhi - 1910 (195 KB)



1. Hubert Price, 2. Lina Price Sanders 3. Sam Price, 4. Mrs. Sam Price
5. Agnus Bryan (Mrs. Jeff Prices mother) 6. Millie Agnus "Aggie" Bryan
Price, 7. T.J. "Jeff" Price 8. Pearl Price Roberson 9.Bettie Price
10. William Priddy Price 11. Hattie Price 12. Fred Price 13. Walter Price
14. A. B. Price 15. Jess Roberson 16. Archie Price 17. Susie Price
18. Lucile Roberson 19. Annabette Roberson 20. Sula Price 21. Mary Price
22. Nora Price 23. Millard Price 24. Vernon Price 25. Viola Price
26. Roy E. Price 27. William Jones Price. Photo courtesy of Dawn Miller
Family picture from Phyllis Hill (350 kb)
From: Phyllis Hill phill@redrock.net Back Row 1. Don't know 2. Dove Esther Hill Bunn Choate 3. Don't know 4. Pearl Allsup (later Haines) 5. Martha Ora Allsup Hill Middle Row 1. Verna Choate (21 Jun 1910) 2. Juanita Choate (15 Jun 1912) 3. Raymond Hill (16 Jan 1911) 4. Floyd Hill (28 Oct 1913) 5. Bonnie Hill (15 Oct 1909) Seated in Front Row Joe Elmer Bunn (24 Jun 1906)
House Raising for Pearl Bassett Bruner


Two months after she lost her husband and two sons in a house fire in
1926. Can you identify any of the people in the picture?
Bassett Family of Texola and Erick - 1914?
(Left to Right, standing: Pearl, Mae, Ruby)
(Sitting: Bob Bassett, baby Dennis on his lap, Verna,
and Lydia Agnes Graves Bassett)
Leta Marie Barber and Billy Wayne Morgan
(In front of Erick High School - 1942)
50th Wedding Anniversary, Donna Rae Downey and Earl French Morgan
August 1, 1951 - August 1, 2001 (thanks to Darla for scanning the picture)
William Henry Morgan Family, ca 1918
Left to Right, back row: Bessie Hughes (sister of Florence Hughes Morgan),
Mary Catherine, Anna Myrtle, Lula Ruth, Hulon Pinkney, Jewel.
Front row: Velma Loveta, William Henry and Florence Hughes Morgan,
Florence Mozelle, Bessie Opal.
From Carol Lynds
Picture of three brothers, from left to right: John Barney Morgan,
David Clinton Morgan and William Henry Morgan. John and Will are buried
in the Erick Cemetery.
Cleo Pennington, Erick, 1920s
from Bill Morrison
Melinda E. Pyle and daughter Opal about 1915
Wife and daughter of Joseph S. Pyle (from Robert Sauls)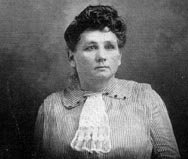 Martha Jane Cannon Pyle (126 KB)
Wife of Willis Pyle, year unknown (from Robert Sauls)
John and Mary Williams (161 kb)
Death of Mr. W. W. Swearingen - newspaper article (566 KB)
from Rhonda Swearingen Harbour
Calvin and Arizona DeLay, 1948
Calvin DeLay on his farm near Hext, 1946
Tombstones of Calvin DeLay and Arizona DeLay, Pioneer Cemetery, Hext
Delay photos courtesy of Gayle Hennington-Van Horn
Read some letters from World War II from Elk City folks, year 1945,
page 1, 2, 3, 4, 5, 6, 7, 8
Letters, courtesy of Joanne Halterman

A school in Elk City, from about 1920. 4th person from the left in the back
is Dove Irene "Rena" Fitzwater, who later married Don Hudspeth.
from Joanne Halterman


George Washington Kent Family 1920s
Homesteaded in the Sayre area about 1910. (222 kb)
Crossman's Cafe, Texola on US 66
from Carol Cullar
Jabe and Tom Darnell
Jabe & Gus & Tom Darnell, 1939
Darnell clan in Texola, 1924
Back row: Mary Alice "Tude" Darnell Rice, Jabe Darnell
Middle row: unidentified girl (possibly Ruby Zan Rice), May Crossman,
Robert L. Crossman (baby), R. W. "Uncle Bob" Crossman
Front row: Martha Nell Darnell, Zelpha Mae Darnell (Snookie), Billy J. Darnell
Evans tombstone, Fairlawn Cemetery, Elk City
Evans obits
(Courtesy of Jack Durham)
Sweetwater High School (75 kb)



thanks to Melanie Alexander, 27 Sep 2002 < mealex @ earthlink.net >