This County is
for adoption, if interested please e-mail the State coordinator and/or the Assistant State Coordinator for details.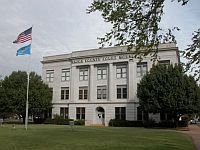 Major County Courthouse
PO Box 379
Fairview, OK 73737-037
Phone: 580-227-4732
Major Co. was settled during the Cherokee Strip Land Run of 1893. It was a part of Woods Co. until Nov. 16, 1907 when Oklahoma became a state and Woods Co. was divided into Woods, Alfalfa, and Major Cos.
The towns and communities were Alamo, Almeda, Ames, Bado, Barnes, Barney, Bernardi, Bertrand, Bostick, Chester, Clarion, Cleo Springs, Dane, Dyche, Elmot, Estelle, Fairbanks, Fairview, Gloss Mountains, Granton, Griever, Heman, Hoopville, Hoyle, Isabella, Lynn, Lyons, Media, Meno, Oneil, Orienta, Orion, Phroso, Plymouth, Prudence, Ringwood, Roscoe, Rusk, Sherman, Tivoli, Togo, Vilas, Walthall, Wooddale.
Only Chester, Meno, Ringwood, Ames, Cleo Springs, Isabella, and Fairview remain although areas are still called by the towns they were associated with.
Fairview is the County Seat - although Cleo Springs wanted to be the County Seat and the Square is still there where they wanted to build the Courthouse!
Brief History of Major County
Major County Place Names
Major County Townships
Ghost Towns in Major County (off site)
---
Neighboring Counties
| Woodward | Woods | Alfalfa | Garfield | Kingfisher | Blaine | Dewey |
---