Towns and Cities of Logan County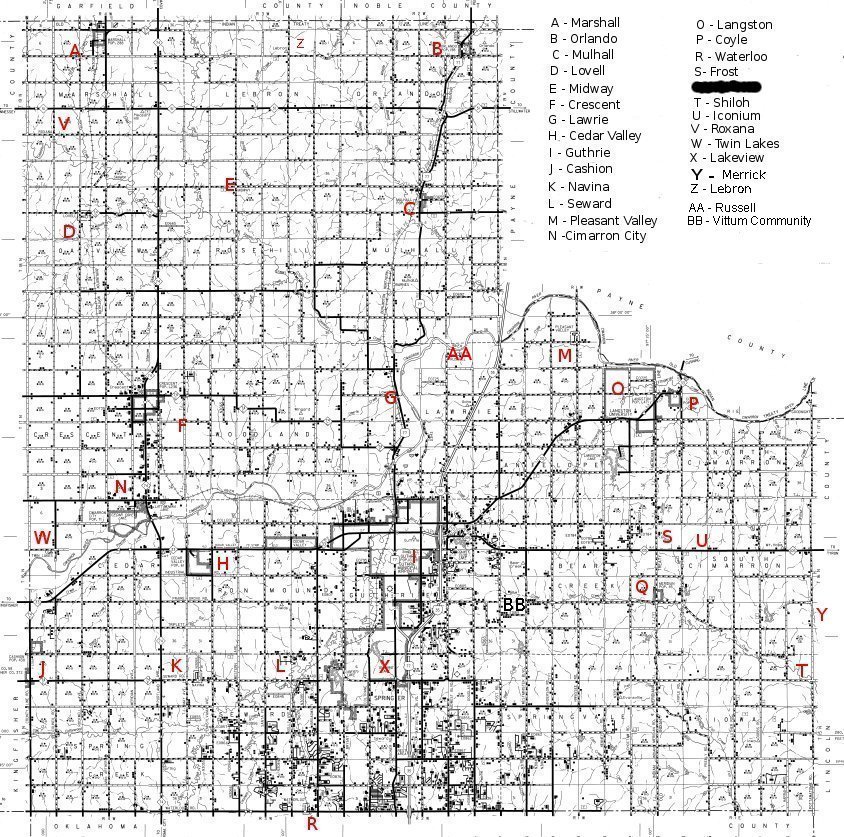 There are many more towns/communities in Logan County not listed below, Seward, Navina, Lovell, Midway, Lawrie, Pleasant Valley, Belton, Frost and Waterloo just to name a few. Waterloo and Merrick, like Cashion, sit right on the County line. Waterloo cemetery is in Oklahoma County. There is what, at least to me, seems to be a fairly complete listing of all the communities that existed in Logan County at Maps-N-More. I'm sure these communities have stories also. If you have any information on these communities please contact me. Any information greatly appreciated.
Back to Map
Return to Logan County Home Page
---
Cashion
Included here because part of the town lies on the Logan County side of the county line although the majority is in Kingfisher County. The main North/South street through town is the county line.
Located in southeastern Kingfisher County, Cashion is situated on State Highway 74F, on the Kingfisher-Logan county line, three miles south of State Highway 33. The community lies sixteen miles east-southeast of Kingfisher, the county seat. The original town was solely in Kingfisher County. In 1889 the area lay within the Unassigned Lands, or Oklahoma District, opened to settlement in April by land run. The surrounding Downs Township had 502 residents in 1900 and 652 in 1907.
Back to Map
Return to Logan County Home Page
---
Cedar Valley
Located in rural Logan County eight miles west of Guthrie on State Highway 33, Cedar Valley is a small incorporated neighborhood in the rolling valleys and cedar brakes, approximately one mile south of the Cimarron River. The settlement consists primarily of a residential area around a golf course. Cedar Valley Golf Club, a privately owned, public facility, occupies three quarter sections of Section 18, Township 16 North, Range 3 West, or Iron Mound Township, which is south of State Highway 33. North of the highway, the south one-half of sections 10 and 11 are also in the corporate limits.
Back to Map
Return to Logan County Home Page
---
Cimarron City
A rural settlement located in far west-central Logan County, Cimarron City takes its name from the nearby Cimarron River, which flows through the town's southwest portion. The Logan County community founded in 1973 is not to be confused with two short-lived Cimarrons established in the newly opened Unassigned Lands region in 1889, one an African American town in Kingfisher County and the other a postal center in Payne County. Cimarron City is located two miles south of Crescent and two miles west of U.S. 74, and ten miles west of Guthrie, the county seat. Some scattered residential property existed in the area as early as the 1960s around Lake Lattawanna, which lies to the north. The area is in the Cimarron River drainage.
Back to Map
Return to Logan County Home Page
---
Coyle
The town of Coyle began as an agricultural community in North Cimarron Township in northeastern Logan County. Situated on State Highway 33, Coyle is fourteen miles northeast of Guthrie, one mile east of the Indian Meridian, and one mile west of the confluence of Fitzgerald Creek and the Cimarron River. The town was founded in 1899 when the Eastern Oklahoma Railway (later the Atchison, Topeka and Santa Fe Railway) built a branch line from Guthrie to Cushing. Guthrie entrepreneur William H. Coyle and U. C. Guss were purchasing agents for the railroad right-of-way. As a bonus for their work they were allowed to select and to plat a town site along the route. They chose a location two miles southeast of Iowa City, a town on the Cimarron River established in 1891 during the opening of the Iowa, Sac and Fox, Kickapoo, Absentee Shawnee, and Citizen Band Potawatomi lands. Iowa City residents moved en masse to the new town site when the railroad bypassed their town. They applied for a post office for Iowa City; however, their application was denied, because a post office with that name already existed. Consequently, they made application for a post office named Coyle, which was established on May 5, 1900.
Back to Map
Return to Logan County Home Page
---
Crescent
Located in Crescent Township in west-central Logan County, Crescent relies on an economy supported by agriculture and light industry. Situated at the intersection of State Highways 74 and 74C, the town is fourteen miles northwest of Guthrie, the county seat. Originally settled by land seekers during the Land Run of 1889, the town had its beginning in fall 1889 when William Brown opened a general merchandise operation, utilizing a wagon and a tent as his store. A few months later his neighbor Benjamin Ryland joined him as a business partner, and they upgraded their enterprise to a log cabin. Within the next year W. F. Mock built a cabin opposite of theirs and operated a hotel, restaurant, and bakery. A post office was established on February 21, 1890, and christened Crescent City, deriving its name from the moon-shaped glade in which the early entrepreneurs had started business. In November 1891 the town site was platted, and in 1893 it was incorporated. In 1902 the Denver, Enid and Gulf Railroad (later the Atchison, Topeka and Santa Fe Railway) laid track one mile west of the city. Two other homesteaders, C. E. Wells and J. H. Rhoades, were persuaded to surrender eighty acres each so that the town could move to the railroad. For a brief period the municipality was known as West Crescent. The first census for Crescent counted 139 persons in 1900. In 1910 there were 903 inhabitants. The town's early economy was based on agriculture, with cotton, wheat, peaches, and sweet potatoes as money crops.
Back to Map
Return to Logan County Home Page
---
Guthrie
Located in Logan County, Guthrie is situated on U.S. Highway 77 thirty-two miles north of Oklahoma City. On March 23, 1889, Pres. Benjamin Harrison signed a proclamation opening the Unassigned Lands in Indian Territory on April 22, 1889, to non-Indian settlers. Guthrie and other towns sprang into existence on that day, when approximately fifty thousand participants of the Land Run of 1889 staked their claims on the open prairie. Prior to the land opening the Southern Kansas Railway (later the Atchison, Topeka and Santa Fe Railway, AT&SF) built a north-south line from the Kansas-Oklahoma border to Purcell, Indian Territory, in 1886-87. Along that line a railroad station known as Deer Creek, at the present location of Guthrie, was established in March 1887. Some land run participants came by train from Arkansas City, Kansas, to Guthrie. The town name honored Kansas jurist John Guthrie. A post office was established on April 4, 1889, and a U.S. Land Office opened on April 22, 1889.
Back to Map
Return to Logan County Home Page
---
Langston
The town of Langston in Logan County is located on State Highway 33, ten miles northeast of Guthrie. The name honors John Mercer Langston, an African American educator and U.S. congressman from Virginia. Langston and Brooksville differ from the other thirteen surviving All-Black towns because they began in Oklahoma Territory. Although E. P. McCabe has been credited for founding the town, Charles Robbins, a white man, owned the land and filed a town survey and plat in 1891. The two men opened the town on April 22, 1890. McCabe initiated the Langston City Herald in October 1890, using it to promote African American migration to Oklahoma and the newborn Langston community.
Reportedly, by 1892 there were twenty-five retail businesses, including a bank, and the town's first common school opened. In 1893 Rev. Bishop Theophile Meerschaert and the Benedictine Sisters established a Roman Catholic mission in the community. In 1895 the town gained limited telephone service. In 1897, through the influence of McCabe, the Oklahoma Territorial Legislature established the Colored Agricultural and Normal University (later Langston University) at Langston. The Western Age and Church and State newspapers followed the City Herald, but none continued into the 1920s. In 1890 the population stood at 251, increasing to 339 in 1910. The college helped Langston endure the Great Depression, which depopulated many of Oklahoma's small towns, black and white. In 1930 the U.S. Census reported a population of 351, slowly rising to 685 in 1950, and declining to 443 in 1980.
Back to Map
Return to Logan County Home Page
---
Marshall
A rural town in far northwestern Logan County, Marshall lies on State Highway 74 E, two miles north of State Highway 51 and two miles west of State Highway 74. Guthrie, the county seat, lies twenty-two miles to the southeast, thirty miles by highway. Other nearby urban areas are Perry, Enid, and Kingfisher.
The community developed after the Unassigned Lands of central Oklahoma opened to settlement in April 1889. Sylvan T. Rice, a homesteader, opened a store on the northwest corner of his land in July 1894, and soon other settlers were attracted to Rice's corner. In March 1890 Rice received a postal designation for Marshall, which he named for his hometown, Marshalltown, Iowa. Rice has since been considered to be Marshall's founder. The opening of the Cherokee Outlet in September 1893 increased the settlement's population, and business boomed. In January 1894 Roy E. Stafford, Irvin H. Stafford, and Joseph Cromer filed a town plat on land owned by Cromer and by Miles Rice, uncle of Sylvan and owner of the adjacent claim. A lot sale held in spring 1894 encouraged Sylvan Rice and his neighbors to move there. A Baptist Church was constructed in 1892, Methodist and Disciples of Christ congregations formed, and social organizations included IOOF (Odd Fellows), Masonic lodge, and the Grand Army of the Republic.
Back to Map
Return to Logan County Home Page
---
Meridian
The agricultural community of Meridian lies in eastern Logan County, twelve and one-half miles southeast of the county seat of Guthrie and one mile north of where Bear Creek crosses the Indian Meridian. The west side of Meridian was originally settled by non-Indians during the Land Run of 1889, while the east side was occupied in 1891 when the Iowa, Sac and Fox, Kickapoo, Absentee Shawnee, and Citizen Band Potawatomi lands were opened. Consequently, one half of the sixty-acre town lies in Bear Creek Township and the other in South Cimarron Township. In 1893 Sarah E. Harbor opened a store on the Indian Meridian. The store also served as a post office when it was established on March 10, 1894. In 1895 she sold the store to Miles William Allen, one of the 1889 successful land claimants, and his wife Lucy became the postmistress. The existence of the Meridian community has depended on this symbiotic store/post office continuing in operation through the twenty-first century, because the town is not accessible by a highway. It is situated at the junction of county roads N3230/E0810
In 1903 the Missouri, Kansas and Oklahoma Railroad (later the Missouri, Kansas and Texas Railway, Katy) was constructing a branch line to Guthrie. Prior to the actual building of the railroad the Meridian Right-of-way and Townsite Company platted a town, which was incorporated in 1902. They initially suggested the name of Allen after the store/post office proprietor, but he declined the honor, saying that the village should be called Meridian, because it was on the Indian Meridian. In 1903 the Fort Smith and Western Railroad also laid track through the town. In the early 1900s the short-lived Meridian Eagle and Meridian Sun newspapers served the citizens.
Back to Map
Return to Logan County Home Page
---
Mulhall
Situated in central Logan County thirteen miles north of Guthrie, Mulhall is named for Zack Mulhall (1847-1931), railway livestock agent, rancher, and famed Wild West show proprietor. He established a ranch there after claiming land in the Land Run of 1889. East of his claim and on a tributary of the Cimarron River, a settlement soon coalesced around an Atchison, Topeka and Santa Fe Railway water station called Beaver Creek, or Alfred, from which he and others had made the run. A town developed on eighty acres belonging to Sam Matthews and J. J. Cummings.
Alfred, possibly named for railroad lawyer Henry Asp's son, soon had typical businesses, including W. A. Baty's lumberyard, Elmer Baker's hardware, and E. H. and Sheldon Harris's grocery. A town council took office in May 1889 with W. A. Baty as mayor. Zack Mulhall became mayor in April 1890, and in June the railroad acknowledged a citizens' petition and renamed the town after him. The postal designation was also changed. Mulhall was platted in March 1891, enabling property owners to get legal titles.
Mulhall had many amenities. Early-twentieth-century newspapers included the Monitor, the Chief, the Enterprise, and the State Journal. By 1902 Presbyterian, Methodist, Christian, and Catholic churches and one school existed, as did a Masonic lodge from 1890 and an Odd Fellows lodge from 1893. Telephone service appeared in 1903 and electric service in 1916. Two banks, feed and seed stores, a roller mill, a grain elevator, two cotton gins, and a broom factory developed, because area farmers derived income from crops of corn, wheat, cotton, castor beans, and fruit, as well as hogs, cattle, and poultry. The post-World War I agricultural depression negatively impacted agribusiness, so that by 1920 only an implement dealer, an elevator, a gin, and a feed store operated. From the 1920s an annual community fair provided entertainment and allowed farmers to exhibit their year's successes.
Back to Map
Return to Logan County Home Page
---
Orlando
Located in northeastern Logan County, Orlando is situated twenty-one miles north of the county seat of Guthrie, one mile west of the Payne County line, and one mile south of the Noble County line. As an agricultural trade center Orlando straddles the Southern Kansas Railway (later the Atchison, Topeka and Santa Fe Railway) constructed in 1887 and U.S. Highway 77, which was paved through Orlando circa 1922. The place name changed from Cherokee to Orlando when a post office was established on July 18, 1889. Several theories exist regarding the town's name. One states that it honored Warren "Orlando" Hysell, who claimed 160 acres adjacent to the railroad station known as Cherokee at the opening of the Unassigned Lands on April 22, 1889. He paid the government $10 an acre to have his claim platted as a town site. However, historian George Shirk asserts that it was named for Orlando Hysell, a relative of the town developer. W. W. Black operated the first general merchandise store built in Orlando. Early-day churches included the Evangelical, the Christian, and the Lutheran.
During the territorial era (1889-1907), Orlando had an eventful history. In 1892 Oliver Yantis, a member of the Doolin Gang, was shot and captured south of Orlando. He was brought to town, and he died. His likeness was captured on photographic plates for posterity. The following year Orlando blossomed into a tent city of more than sixty thousand, who awaited the opening of the Cherokee Outlet. The next excitement occurred in 1896 when con artists purchased homesteads southwest of town, salted them with gold, and inaugurated a brief "gold rush." By the time the scam was realized several town merchants were impoverished. Around 1902 an Orlando housewife unknowingly purchased adulterated kerosene for home use. She filled her lamps, and when lighting them, a fire started which destroyed her home, took her life and that of two of her children, and spread to several surrounding homes. The incident influenced the writing of Article 20, sec. 2 of the state constitution, which specified the testing of kerosene's specific gravity. When the Constitutional Convention convened in 1906, Albert H. Ellis of Orlando was elected second vice president.
Back to Map
---
Return to Logan County Home Page

[an error occurred while processing this directive]