Home | Cemetery | Queries | Researchers | LCGS
This site is proud to be a part of the USGenWeb and OKGenWeb Project.

Logan County Obituaries

Thelma Marie Bruce

(May 3, 1920 - April 25, 2011)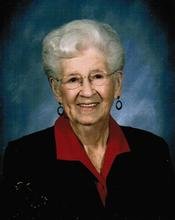 Praises to God for allowing Thelma Marie Bruce to enrich the lives of so many. She was born on May 3, 1920 in San Francisco, CA to Henry Dee and Thelma Marie (Hazlett) Caldwell. She went to sleep Sunday and awoke in her Heavenly Father's arms on April 25, 2011.
She married Charles B. Bruce on August 9, 1957 in New Mexico. She was a homemaker and a devoted Christian, serving as a Sunday school teacher and singing in the church choir. She was a very talented lady, teaching herself to play the piano and making the BEST sand plum jelly.
She and Charles moved to Guthrie, OK in the early 1970's where they resided until she moved to Oklahoma City, OK in 2006. While in Guthrie, they owned and operated the Mustang Gas Service Station on Division Street.
Thelma is survived by four children Lewie Fletcher and wife Sue of Worden, MT, Nancy Wilson and husband Edwin of Tuttle, OK, David Fletcher and wife Jeannette of Enid, OK, and Davilene Smith of Oklahoma City; nineteen grandchildren; thirty-five great-grandchildren; and five great-great-grandchildren.
She is preceded in death by her parents, her husband of 36 years Charles Bruce, brother L.J. "Buddy" Caldwell, and two nephews Dennis and Douglas Caldwell.
Funeral services will be held at 2:00 p.m., Friday, April 29, 2011 at Smith Memorial Chapel with Pastor Bryan Gilbert of Brookwood Baptist Church of Oklahoma City and Dr. Larry Stevens of Noble Avenue Baptist Church of Guthrie officiating. Interment will follow at Seward Cemetery, Guthrie. Services are under the direction of Smith-Gallo Funeral Home, Guthrie.
Visitation will be Thursday, 8:30 a.m. – 8:00 p.m. and Friday, 8:30 a.m. – 12:30 p.m.
To

God be the glory!
Return to Logan County Homepage
This site may be freely linked, but not duplicated without consent.

All rights reserved. Commercial use of material within this site is prohibited.
The copyright (s) on this page must appear on all copied and/or printed material.

© 2023 by Logan County Coordinator, OKGenWeb
Last Updated, 2009