Home | Cemetery | Queries | Researchers | LCGS
This site is proud to be a part of the USGenWeb and OKGenWeb Project.

Logan County Obituaries

Sharon Eileen Quave

(June 21, 1940 - May 17, 2011)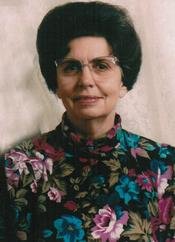 Sharon Eileen Flynn was born June 21, 1940 in North Hollywood, CA. She lived there until age 9 and moved to Burbank, CA and later moved to a farm. She graduated from California in 1958. Her family moved to Hammond, LA which was her dad's original home place.
She worked as a manager for Sears in the Credit Department until getting married in 1966 to Jerry Lee Quave. To this union was born one daughter, Deborah Eileen Quave. Sharon joined her husband on May 17, 2011 after a lengthy illness.
She leaves behind a daughter Deborah Eileen Shaffer and husband Craig; two grandchildren Tiffany Sheree Shaffer and Corey Devon Shaffer all of Guthrie; brother Gerald Flynn and wife Connie of Louisiana; nephews; and a host of friends and saints.
Funeral services will be held at 10:00 a.m., Saturday, May 21, 2011 at Smith Memorial Chapel. Interment will follow at Summit View Cemetery, Guthrie, OK. Services are under the direction of Smith-Gallo Funeral Home, Guthrie.
Visitation

will be Friday, 11:00 a.m. – 8:00 p.m. with family receiving guests 6:00 p.m. – 8:00 p.m.
Return to Logan County Homepage
This site may be freely linked, but not duplicated without consent.

All rights reserved. Commercial use of material within this site is prohibited.
The copyright (s) on this page must appear on all copied and/or printed material.

© 2023 by Logan County Coordinator, OKGenWeb
Last Updated, 2009