Marjorie Ann McGrath
(November 25, 1930 - March 29, 2011)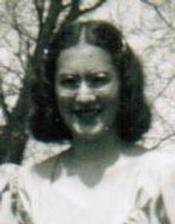 Marjorie Ann McGrath, 80, departed this world on March 29, 2011 in Oklahoma City, OK. She was born November 25, 1930 in Lake City, Iowa, to Helmuth and Irene Weiss.
Marjorie had a keen wit and dry sense of humor—a practical woman who led a colorful and interesting life. She was a school teacher, raised horses, a successful lawyer and so much more before moving to Guthrie with her husband. They retired here after selling their business, Bright Side Lighting.
She is survived by her family: her husband, Spencer McGrath; her children and grandchildren, Kathy Haynes Zerkus and husband, Michael and their children, James and Tori Ann; Kelley Ann Eakins and her fiancé, J.B. Skidgel and her children Ryan and Conner; and her step-children include, Robert, Steven, Laura, David, and Michael, their spouses, children, and grandchildren. She also leaves behind her siblings, nieces, nephews, and great-nieces and nephews. She will be missed by many great friends including Mr. John Lamberton. She is preceded in death by her son, Douglas Haynes and her grandson, Nicholas Jordan Reinert (Lamberton).
Graveside

services will be held at 2:00 p.m., Monday, April 4 at Summit View Cemetery. Guthrie, OK. Services are under the direction of Smith-Gallo Funeral Home, Guthrie. In lieu of flowers, donations can be made to Community Church. At the family's request, there will be no visitation.