Lois Naomi Anderson

(June 11, 1923 - March 2, 2011)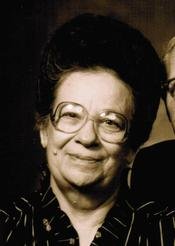 Lois Naomi (Clymer) Anderson was born June 11, 1923 to Unie and Cora Clymer. She passed away on Wednesday, March 2, 2011 in Guthrie, OK.
The Clymer's resided on a farm in the Crescent, OK area for several years, where Lois was enrolled in the Crescent school system. When the Clymer's moved to the Mulhall, OK area, Lois was a student at Rose Hill School. In 1936 the family moved to Guthrie where Lois was a student at Cotteral.
Lois was the oldest of ten children, consisting of four brothers and five sisters.
The family attended the Church of God where Lois and a cousin, Zelda (Nelson) Mitchell sang as a duet. Lois taught Sunday school classes from the beginners to teenagers, and the adult classes. She also served the church as secretary and treasurer for over 29 years. She also was a prayer group leader for several years and assisted Lois Naomi (Clymer) Anderson at the piano.
As time went on, she met Norval Oris Anderson who attended the same church- they married at a very young age on September 3, 1937. After almost eight years went by, they became the parents of a 10 lb. baby boy, Robert Wayne Anderson- their pride and joy. After 3 ½ more years went by, Charles David Anderson came along, a 9 ½ lb. baby boy. What a wonderful gift from God.
Lois was a very devoted mother and kept up her duties and responsibilities in teaching and training in the Sunday school departments. During this time Lois felt the calling from the Lord and became a licensed minister and preached at the Enid Church of God, answering the need and making the long drive every week for some time. She was asked by several churches to come and hold week long revivals, and being the dedicated Christian she was, never turned down an opportunity to spread God's word.
Lois was employed by the C.R. Anthony Department Store for almost 28 years. She had her 25 year service card when she retired in 1990.
Her Christian faith was an example to all who knew her. She not only leaves her sons and their wives, Robert Anderson and wife Tammy and Charles Anderson and wife Billie Kay; five grandchildren Kristen, Heather, Summer, Hannah, and Sarah; three great-grandchildren Makenzie, Skyler, and Noble; and a multitude of nieces, nephews, cousins, and friends.
Lois was preceded in death by her parents Unie and Cora Clymer, husband of over 60 years Norval Anderson, and sister Norma Jean Sullivan.
Funeral services will be held at 10:00 a.m., Monday, March 7, 2011 at Smith Memorial Chapel with Bishop Arnold Jones of Full Gospel Fellowship Church officiating. Interment will follow at Summit View Cemetery. Services are under the direction of Smith-Gallo Funeral Home, Guthrie.
Visitation

will be Sunday, 1:00 p.m.—8:00 p.m. In lieu of flowers, memorials may be made to Full Gospel Fellowship, 424 North 10th Street, Guthrie, OK 73044.