Unknown Paper.
Published about Aug. 14, 1960.
J. P. Hudson Dies, Rites Scheduled
Funeral services will be conducted at 10:30 a. m. Wednesday in the First Baptist church for J. P. Hudson, 38, state game ranger and life-long Guthrie area resident, who died Sunday afternoon following a heart attack.
Hudson was stricken while working in a pasture on his farm northeast of Guthrie shortly after 2 p. m. He was pronounced dead after arrival at Benedictine Heights hospital here.
Rev. Eugene Stockwell, pastor of the First Baptist church, will officiate at the services and burial will be in Summit View cemetery under the directions of Smith Funeral Home.
Masonic services will be conducted at the grave by lodge 35 AF and AM. Game rangers will be honorary pallbearers.
Hudson and a son, Donald Ray, were doing fence work in the pasture when he was stricken. Donald Ray rushed to the home and got his mother.
An ambulance, doctor, and firemen were called. Artificial respiration was used but Hudson was pronounced dead by the attending physician a short time after he arrived at the hospital.
Hudson was born May 26, 1922 in Guthrie. He was married to Nellymae Mater Oct. 19, 1941.
He was in the U. S. Navy from April 25, 1945 to May 5, 1946.
Hudson was a member of Guthrie Lodge 35 AF and AM, was a 32nd degree Mason, a member of the Eastern Star Odd Fellows Lodge, American Legion, Sportsman Club, Logan County selective service board aand the First Baptist church.
Survivors are his wife, of the home, Northeast of Guthrie, two suns, Tracy Lee who is in the U. S. Navy stationed at San Diego, and Donald Ray, of the home, a daughter, Harriet Jane, also of the home; his mother Mrs. H. H. Hudson, Guthrie, four sisters, Mrs. J. J. Filebark, Orlando, Florida, Mrs. Sned Christian, El Paso, Tx., Mrs. Ray Ellis, Guthrie, and Mrs Bill Klinger, Altus; two brothers, Billy Bob Hudson and Herbert Dan Hudson, both of Guthrie.
Pallbearers will be Kenneth Bock, Ralph Redman, George Eyster, Orville Hall, Nolen Welch, and Claud Canning.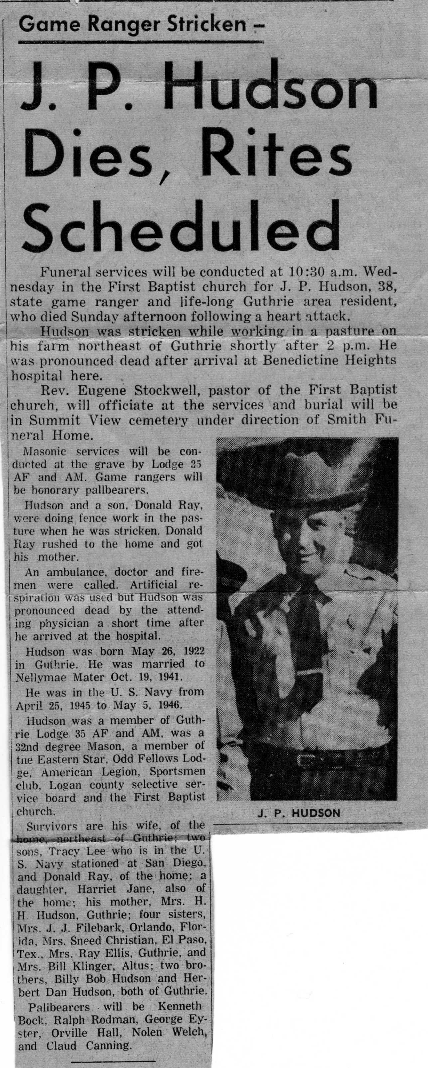 Submitted by Adele Jones