Helen Yvonne Clymer

(November 16, 1934 - March 4, 2011)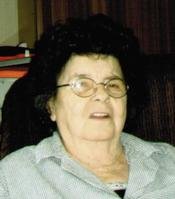 Funeral services for Helen Yvonne (Hopkins) Clymer, 76, of Guthrie, OK will be held at 2:00 p.m., Tuesday, March 8, 2011 at Smith Memorial Chapel with Reverend Ron Nelson officiating. Interment will follow at Mt. Hope Cemetery, Crescent, OK. Services are under the direction of Smith-Gallo Funeral Home, Guthrie.
Helen was born November 16, 1934 to Jesse Price and Lottie Belle Hopkins. She passed away on Friday, March 4, 2011 in Oklahoma City, OK.
Helen and her husband David owned and operated David L.'s Snack Bar in Guthrie and she was a cook at Fogarty Schools for 22 years and at Cole's Nursing Home for 6 years. She liked to fish and she and David would drive around in the country to sight see and would love to sing on the many road trips they would take. She took great care of her husband and always had a homemade cherry pie for him. She was also a devoted mother, grandmother, and great-grandmother.
She is survived by her husband of almost 61 years David L. Clymer of the home; son David Wayne Clymer and wife Tamara of Yukon, OK; three daughters Patricia Lambright and companion John Coburn of Coyle, OK, Judy Johnson and companion Chuck Dyer of Noble, OK, and Debra Holloway of Guthrie; eleven grandchildren Cindy Simpson-Durand, Sandra Gonzales, Michael Clymer, Cathleen Garnand, David Wayne Clymer II, Robert Clymer, Christy Cisneros, Jennifer Watson, Joshua David Johnson, Jessica Dawn Allison Johnson, and Stephanie Leigh Holloway; nineteen great-grandchildren; and one great-great-granddaughter.
Helen is preceded in death by her parents, half-brother William Long, great-grandson Steven Gonzales, and son-in-law Gil Payne.
Visitation

will be Monday, 4:00 p.m.—8:00 p.m. and Tuesday, 9:00 a.m.—1:00 p.m.