Frances Opal Ledington

(December 12, 1921 - March 16, 2011)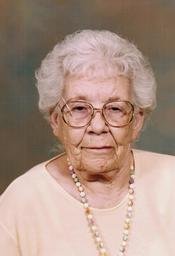 Frances Opal Ledington of Guthrie, OK was born December 12, 1921 to Cleveland and Elsie (Rains) Egelston in Crescent, OK, one of ten children. She passed on March 16, 2011. She married William A. "Bill" Ledington on August 10, 1940.
She is survived by son Tom Ledington of Muskogee, OK; daughter Jane Hinojosa of Oklahoma City, OK; brother C.J. Egelston of Guthrie; and sister Emma Richards of Surprise, AZ. She also leaves six grandchildren Sheilla Jernigan of San Antonio, TX, Petra Hutchison of Edmond, OK, Angela Bruning of Guthrie, Danielle Looper of Moore, OK, Holly Ledington of Beggs, OK, and Brianne Hinojosa of Oklahoma City as well as ten great-grandchildren.
She is preceded in death by her husband, one son, one granddaughter, two brothers, and five sisters.
Frances was a devoted wife and mother and a good friend to many. She supported and participated in all of her children's activities when they were young. She especially enjoyed her great-grandchildren, and they always looked forward to visiting "Grandma Frances" to bring her favorite candies for her to share. She was active in the First Christian Church and the Guthrie Chapter of AARP until the onset of her illness.
Funeral services will be held at 10:00 a.m., Monday, March 21, 2011 at First Christian Church, Guthrie with Dr. Dennis E. Clark officiating. Interment will follow at Oakland-Knowles Cemetery, Crescent. Services are under the direction of Smith-Gallo Funeral Home, Guthrie.
Visitation

will be Sunday, 2:00 p.m.—6:00 p.m. with family receiving guests 3:30 p.m.—6:00 p.m.