Elbert Dempsey Clymer

(November 28, 1926 - June 9, 2011)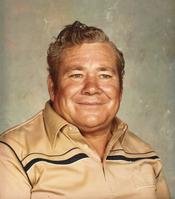 Funeral services for Elbert Dempsey Clymer, 84, of Guthrie, OK will be held at 10:00 a.m., Tuesday, June 14, 2011 at Bible Baptist Church with Pastor Robby Robbins officiating. Interment will follow at Mt. Hope Cemetery, Guthrie. Services are under the direction of Smith-Gallo Funeral Home, Guthrie.
Elbert was born on November 28, 1926 in Crescent, OK to Uni and Cora (Nelson) Clymer. He passed away on Thursday, June 9, 2011 in Oklahoma City, OK.
Elbert served in the U.S. Army and was a member of the VFW Post #4578 in Guthrie. He loved the outdoors and was an avid fisherman; in his younger years he also loved to hunt.
He is survived by three sons Jim L. Clymer, Sr. and wife Sally of Chickasha, OK, George Thomas Clymer and wife Regina of Guthrie, and Kevin J. Clymer of Del City, OK; three daughters Patty Essman of Lawrence, KS, Charolett Elliott of Guthrie, and Nancy VanHoutan and husband Karl of Guthrie; three brothers David Clymer of Guthrie, Jimmy Clymer and wife Janice of Guthrie, and Gary Clymer and wife Paula of Moore, OK; four sisters Ruth Fowler of Kansas, Patsy Grimes of Nebraska, Corky Rains of Guthrie, and Margaret Deaton and husband Gerald of Guthrie; twenty grandchildren; and numerous great-grandchildren.
Elbert is preceded in death by his parents, wife Frances Clymer in 1974, son Elbert E. Clymer, two daughters Eunice Gooden and Connie Clymer, two sisters Lois Anderson and Norma Jean Sullivan, and grandson John Gooden.
Visitation

will be Monday, 10:00 a.m. — 8:00 p.m.