Edward Wayne Roper

(July 22, 1945 - April 26, 2011)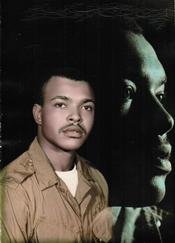 Funeral services for Edward Wayne Roper, 65, of Guthrie, OK will be held at 11:00 a.m., Wednesday, May 4, 2011 at Smith Memorial Chapel. Interment will follow at Seward Memorial Cemetery. Services are under the direction of Smith-Gallo Funeral Home, Guthrie.
Wayne passed away on April 26, 2011 in Oklahoma City, OK. He was born July 22, 1945 in Guthrie, OK to Harvey and Cholly Mae Roper. Wayne confessed his life to Christ at an early age. He attended Page Elementary School and graduated from Faver High School where he played the drums. After graduation he attended Langston University for two years until he joined the Unites States Marine Corps in 1966. He received a Purple Heart after being wounded in the Vietnam War. He was transferred to the Sanctuary Hospital in the Philippines, where he met and married Gloria Esecano. From this union came Marina Bridgida and Edward Anthony Roper.
Wayne is preceded in death by both of his parents and grandsons Victor Hopkins Jr. and Chester Webb, III.
He is survived by his wife Gloria Roper; children Mirina Bridigda Johnson (Carnell), Edward A. Roper, Sandra K. Webb, John E. Edwards, Victor Hopkins, Sr., and Chris E. Roper; sisters Melva (Henry), Angela, LaGreta, Pamela, Claudia, Barbra, and Jennifer; brothers Alphonzo, Marshall, Maurice, and Orlando; and a host of grandchildren, great-grandchildren, aunts, uncles, nieces, nephews, cousins, and friends.


Visitation

will be Tuesday, 10:00 a.m. — 5:00 p.m.