Home | Cemetery | Queries | Researchers | LCGS
This site is proud to be a part of the USGenWeb and OKGenWeb Project.

Logan County Obituaries

Cora Lee White

(May 26, 1915 - March 1, 2011)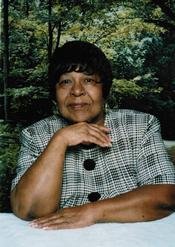 Funeral services for Cora Lee White, 95, of Langston, OK will be held at 11:00 a.m., Saturday, March 5, 2011 at Smith Memorial Chapel, Guthrie, OK. Interment will follow at Beulah Land Cemetery, Langston. Services are under the direction of Smith-Gallo Funeral Home, Guthrie.
Cora was born on May 26, 1915 in Cleburne, TX. She passed away on Tuesday, March 1, 2011 in Jones, OK.
Visitation

will be Friday, 10:00 a.m.—5:00 p.m.
Return to Logan County Homepage
This site may be freely linked, but not duplicated without consent.

All rights reserved. Commercial use of material within this site is prohibited.
The copyright (s) on this page must appear on all copied and/or printed material.

© 2023 by Logan County Coordinator, OKGenWeb
Last Updated, 2009