Home | Cemetery | Queries | Researchers | LCGS
This site is proud to be a part of the USGenWeb and OKGenWeb Project.

Logan County Obituaries

Christina Renee Smith

(July 14, 1970 - April 11, 2011)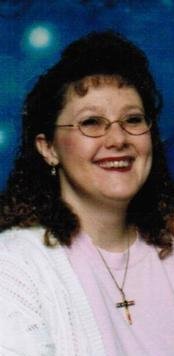 Christina Renee Downing Smith went to be with her Lord and Savior on Monday, April 11, 2011. Christina was born July 14, 1970 in Oklahoma City, OK. She graduated from OSU-OKC in December 1997 with her RN in nursing. She worked at Edmond Memorial Hospital and later for Kingfisher Regional Hospital. She was currently going back to college at UCO in Edmond to get her Master's Degree so she would be able to teach nursing.
She was preceded in death by her father William F. "Bill" Downing; grandmother Susie Uselton; grandfather Frank Uselton; two uncles Darrell Uselton and Monty Uselton; great-niece Raegan McKee; and step-father M.E. "Mike" Eitson.
She is survived by her son Daniel Smith and his father J.C. Smith of Deer Creek, OK; mother Joyce Carter-Eitson of Guthrie, OK; sister VaLenda McKee and husband David of Guthrie; brother Brian Downing of Cushing, OK; step-sister Jana Sue Gizinski and husband Wayne of Cheyenne, WY; three half-brothers Bill Stockwell and Brent Stockwell of Edmond and Michael Stockwell of Oklahoma City; two nephews David McKee II and wife Heather of Guthrie and Joe McKee and wife Amanda of Stillwater, OK; two nieces Susie McKee and Ashley Downing both of Guthrie; five great-nieces; four great-nephews; as well as her aunts Johnnie Bross of husband Tom of Guthrie, Marlene Uselton of Edmond, and Kathryn Livingood of Houston, TX; three uncles Frank Uselton of Edmond, Jack Uselton and wife Penny of Houston, TX, and Ken Uselton and wife Susan of Edmond; and numerous cousins.
She was a very devoted mother to her son who was the light of her life. She had been a nurse of ten years and loved taking care of other people. She was a member of Life Church Edmond Campus. She also was a loving daughter, sister, aunt, and a fierce friend. She was an avid gardener and loved watching things grow. She was quick to laugh and her family was everything to her. We will miss her more than words can say.
Funeral services will be held at 1:00 p.m., Monday, April 18, 2011 at First Christian Church with Dr. Dennis Clark officiating. Interment will follow at Summit View Cemetery. Services are under the direction of Smith-Gallo Funeral Home, Guthrie.
Visitation

will be Sunday, 1:00 p.m.—8:00 p.m. and Monday, 8:30 a.m.—11:00 a.m.
Return to Logan County Homepage
This site may be freely linked, but not duplicated without consent.

All rights reserved. Commercial use of material within this site is prohibited.
The copyright (s) on this page must appear on all copied and/or printed material.

© 2023 by Logan County Coordinator, OKGenWeb
Last Updated, 2009