Cheryl Lynn Pangburn

(November 7, 1966 - May 26, 2011)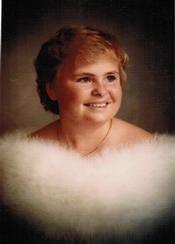 Cheryl Lynn Pangburn, 44, was born on November 7, 1966 in San Diego, CA. She went to rest with her Lord on May 26, 2011.
Cheryl lived with her mom and dad in Mulhall, OK. She leaves behind her parents, John and Wanda Pangburn, brother John Pangburn and wife Deborah, sister Bobbie Richards and husband Tom all of Mulhall, nieces Alex, Dani, Lindsey, and Sam of Mulhall, nephew Bryce who is serving in Afghanistan in the U.S. Air Force, and a whole bunch of loving relatives and friends in Oklahoma.
She is preceded in death by a sister Bethemae.
Cheryl attended the Mulhall Christian Church. She loved animals and enjoyed playing video games, listening to country and gospel music, and talking to friends.
Funeral services will be held at 10:00 a.m., Tuesday, May 31, 2011 at First Baptist Church of Mulhall with Pastor James Tucker officiating. Interment will follow at Morris Heights Cemetery, Orlando, OK. Services are under the direction of Smith-Gallo Funeral Home, Guthrie, OK.
Visitation will be Monday, 2:00 p.m. — 8:00 p.m.
Donations

may be made to Good Shepherd Hospice, 4350 Will Rogers Parkway, Suite 400, Oklahoma City, OK 73108 — they were wonderful!