---
Seiling Baseball Team, about 1918-1920
Bob Saylor, Gene Summers, Maynard Goss, Sam Chapman, Lou Diercks, Charles S. Wallace,
Robin Adair, Buck Chapman, John White, Elvin Cornwell, Hyrum Moldrup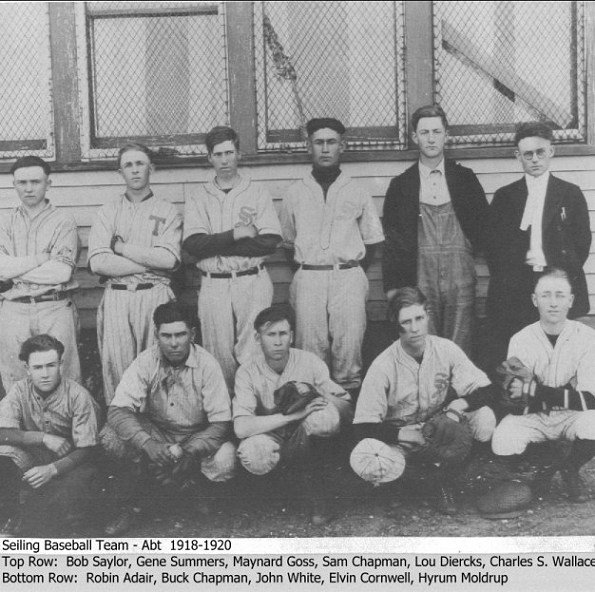 ---
---
Seniors of 1939, Seiling High School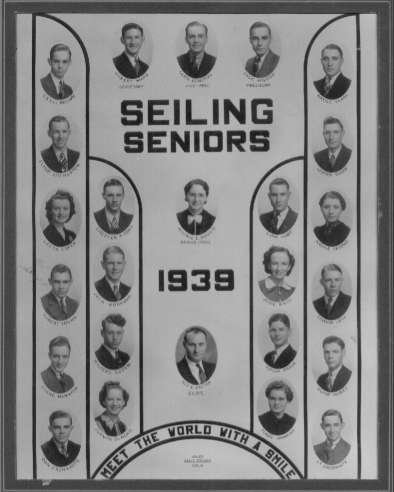 larger photo
Top Center: Hubert Ward, Glen Benefiel, Jack Wilcox
Left column1: Cecil Brown, Elmer Livingston, Leota Cofer, Hubert Young, Duane Hammon, Don Cronkhite
Left column2: Chester Weems, Jack Workman, Wilferd Goyen, Juanita Duncan
Center: Minnie E. Gould, Princ.; Roy E. Patton, Supt.
Right column3: Evan Hurt, Jessie Biggs, Roger Pierce, Mabel Hawkins
Right column4: Wayne Clark, Lester Clark, Nadine Seifried, Edward Leak, Duane Hedges, J. T. Cronkhite
---
Seniors of 1949, Seiling High School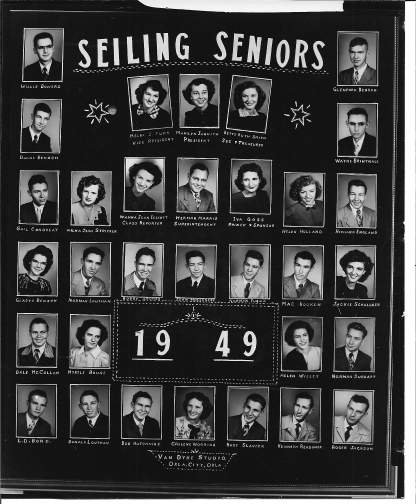 ---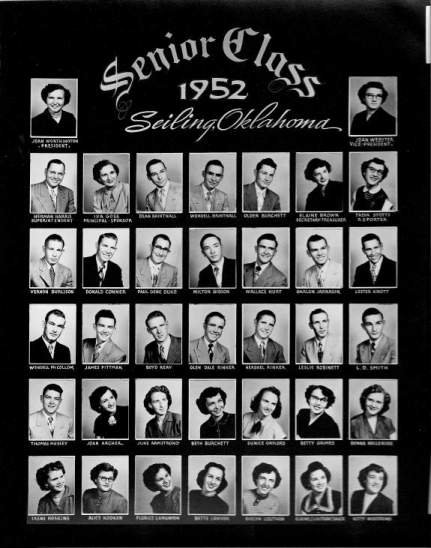 Seiling Seniors1952.jpg
---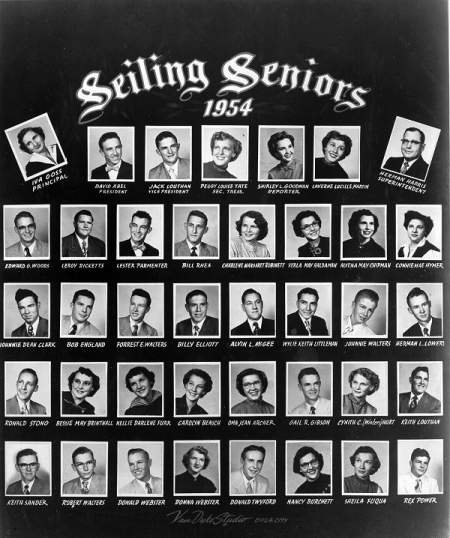 Seniors of 1954
---
Seniors of 1957, Seiling High School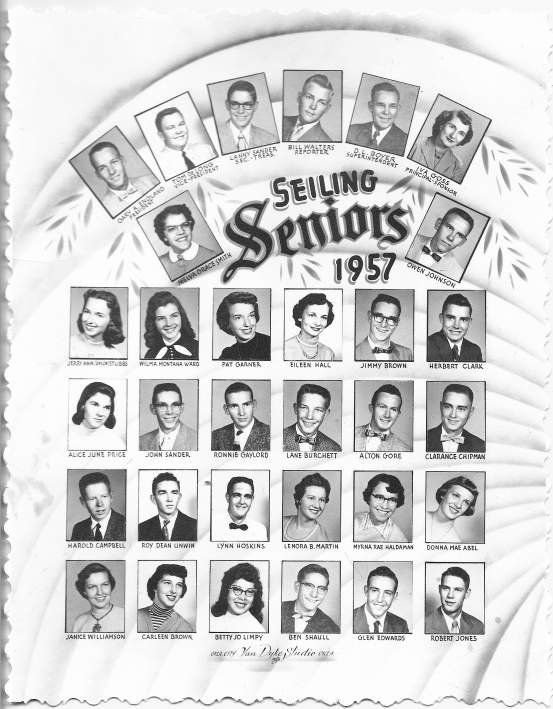 Gary A. England, Tom DeLong, Lanny Sander, Bill Walters, D. L. Boyer, Iva Goss
Melva Grace Smith, Owen Johnson,
Jerry Ann (Anson) Stubbs, Wilma Montana Ward, Pat Garner, Eileen Hall, Jimmy Brown, Herbert Clark,
Alice June Price, John Sander, Ronnie Gaylord, Lane Burchett, Alton Gore, Clarance Chipman,
Harold Campbell, Roy Dean Unwin, Lynn Hoskins, Lenora B. Martin, Myrna Rae Haldaman, Donna Mae Abel,
Janice Williamson, Carleen Brown, Betty Jo Limpy, Ben Shaull, Glen Edwards, Robert Jones
---
Seiling Basketball teams - what year?
From "37 Years On The Block," by Boyd Stoddard, a basketball coach in the Leedey, Vici and Seiling communities.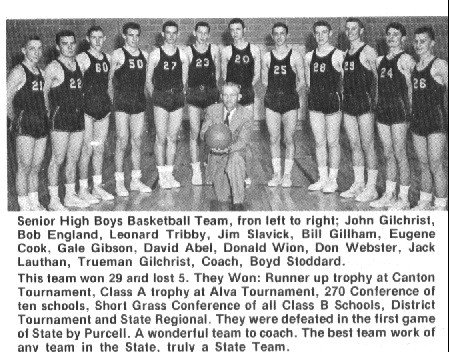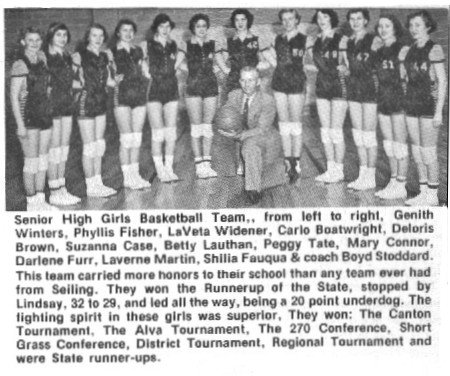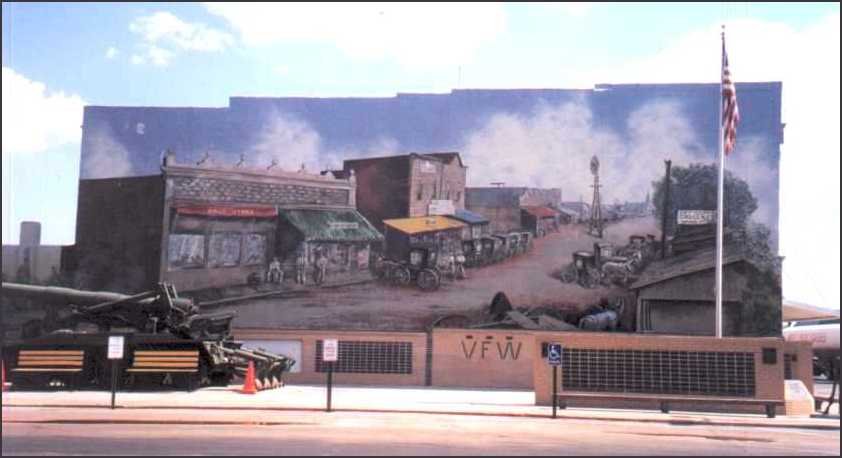 Historic Seiling mural painted by Dr. Palmer and students from UCO of Edmond, taken from an early day picture of Seiling, Oklahoma ...about 1908. The mural is located at the corner of Main and 3rd street at the Veteran's memorial wall.
Thanks to Patsy Smart for these photos.
---