"Links to web sites that are not part of the USGenWeb Project are provided for your convenience and do not imply any endorsement of the web sites or their contents by The US Gen Web Project."
HOUSTON'S OF TAHLEQUAH
Information and Pictures were furnished by: Willora Glee Van Osdol Krapf

Sequoyah Houston

Sequoyah Houston 1861-1894


Mary Ann Wyrick Houston 1870-1960 Married Sequoyah 1886
(Mother of Mack Houston)
THE DAY SEQUOYAH HOUSTON FELL TO CHEROKEE BILL
by Jin Etter from Frontier Times Magazine Oct-Nov 1972

"When gunfights happened, they were generally over pretty quick-and generally it was after somebody got killed" Indian Marshal Sequoyah Houston wore his black hat with the wide flat brim and a white shirt under a dark dress coat on the last day his son saw him alive---that warm Sunday on June 17, 1894 when he rode out after the men later known as Cherokee Bill and Cook Gang. When the posse gathered in front of the Cherokee Nation Capitol in Tahlequah, Indian Territory, Houston sat somber and erect on his white horse, and told his wife goodbye. He would come through the wood along Fourteen Mile Creek and be home late that night, he said. But he didn't. The next morning standing outside their log house in a clearing of timber with his mother, seven-year-old Mack Houston watched his uncle approach in a buggy and sensed what news he was bringing: "Sequoyah got killed!" Those were his first words," remembers Mack Houston, today eighty-four years old and a resident of Tahlequah, the Cherokee County seat of Oklahoma. "My mother just went to pieces. She thought my father was everything."
Sequoyah Houston, a full blood Cherokee, was a tall handsome man with direct eyes and high cheekbones who loved the customs and simple like of his people. His lawman manner, good English, and full un-Indian mustache, however, gave him the personality of a white man also.
Though a competent officer and a good shot with rifle and pistol through constant practice, during his services of about five years he
had never killed anyone. Now Houston was dead at age thirty-two.
His wife, a stern but loving mother of Irish and Dutch ancestry, stood weeping near the porch, young Mach beside her. His smaller
brothers- Jack, four; Alex, three; and George, only three months---were inside the house. The words of his mother's brother,
Julian Wyrick, rang in Mack's ears like a rifle shot in the crisp morning air. Houston had been killed in a gun fight at the Halfway House, a
travelers' lodging place halfway between Tahlequah and Wagoner. It was located on Fourteen Mile Creek, the latter so named because it
crossed the trail fourteen miles from Tahlequah. When the posse men rode out of town they knew only that they were after two wanted outlaws---one for a shooting and the other on a larceny charge---who reportedly were at Halfway House in connection with a government payment of $6,640,000 being made to the Cherokees. There, about three hours later, occurred the gunfight in which one of the renegades---the one who shot down Houston gained his notorious alias of Cherokee Bill, probably the most bloody murderer of the Indian country. And it was soon afterward that he and his partners, who included brothers Bill and Jim Cook, came known throughout much of the Indian Nations as the Cook Gang. The Posse consisted of ten riders most of them full blooded or 1/2 Cherokee ----(Sequoyah) Houston, Ellis Rattling Gourd, Bill Bracket, Bill McKee, Ishem Grease, George Parris, Bob Woodall, ___son Hicks and brothers E. C. "Zeke" and Dick Crittenden, the latter two well known gunfighters. As his son remembers from the immediate accounts, and those repeated to him in later discussions throughout the years, Houston and the others left their horses in the trees after wading the clear shallow creek about four in the afternoon. Winchesters and six guns drawn, they could see the Halfway House. It was the first shot---the unexpected crack of a Winchester---his son says, that killed Houston. Crawford Goldsby was outside the building, either, somehow forewarned or otherwise on the alert for lawmen. Goldsby sent a bullet into the first full target topping the ridge. Soon a blazing fight was in progress. Winchester and pistol blasts echoed through the blackjack and cottonwood timber. Lead slugs whined off rocks; others thudded into trees and the Halfway House. The posse had encountered more than two common criminals, fighting them were at least three outlaws---Goldsby and the Cook brothers---believed accompanied by Jess Cochran and Jim French. As some of the posse carried Houston, either dead or rapidly dying, down the rough hill, the others stayed on the ridge firing steadily at the outlaws. One of the latter, Jim Cook, was wounded several times---at least eight, said a newspaper report four days later. One
injury was sustained while airming from a corner of the building; Dick Crittenden shot the gun from his hand. But the attack on the gang was futile. Either the outlaws were too well fortified or they managed to get to their horses and escape through the woods.
Published reports vary. It is said the last of the posse to quite firing were the Crittendens, who at dusk returned to their horses and left.
Houston, meanwhile had been carried a distance of about a mile to a store operated by Zack Taylor, where his body was laid on the counter
to await a hack from Tahlequah. Except for the wounded Cook, stalked and captured like an injured animal two days later, the outlaws fled---probably back into the Creek and Seminole Nations. Goldsby and the Cooks had been in hiding there when they heard of the government money to be distributed in payment for a portion of land known as the Cherokee Strip. The disbursement of funds at Tahlequah had apparently ended on June 16. [Some accounts incorrectly give the date as July. ]Goldsby and the Cooks, who were part Cherokee, had slipped into the Cherokee Nation and, according to reports, had induced the operator of the Halfway House, Effie Crittenden, estranged wife of Dick Crittenden, to go to Tahlequah and draw their money for them---$265.70 each. Other accounts say the outlaws were not there to draw their money but to rob a stagecoach hauling it from either Fort Gibson or Wagoner, to the Cherokee Capitol. A slightly different version reports that they already had received their shares from the Tahlequah payment and were waiting to hold up a party of tribal guards taking the rest of the federal money to Wagoner, where it would be expressed to Vinita. Jim Cook's story, as quoted by a news reporter after the capture, is
still another version. Whatever their purpose, a murder had resulted and the bloody career of Cherokee Bill was spurred on its violent way. An employee of the Halfway House, according to a popular legend, when asked the day after the shooting if one of the outlaws was Crawford Goldsby, replied "No, it was Cherokee Bill." Goldsby, at only eighteen years of age, had shot his first man after an argument at a dance at Fort Gibson. He had left his victim for dead, but it is believed the man recovered from the pistol blast. It was for this crime he was wanted when he was lodged at the Halfway House. Following the death of Sequoyah Houston, Bill had a spree of about two years robbing trains, express offices, post offices and stores, and wantonly killing anyone in his way. He was finally captured and sentenced by Judge Parker of Fort Smith, Arkansas, for the killing of Earnest Melton, a bystander Bill shot while robbing a store at Lenapah in the Cherokee nation. This crime was committed less than five months after the Halfway House shooting---and Cherokee Bill was hanged on March 17, 1896, at the age of twenty. The Halfway House gunfight was reported in the June 21, 1894, issue of the Muskogee Phoenix on an inside page under a small, one-column headline: "A DEADLY FIGHT Between the Cook boys and the Cherokee Guards---A Guard killed and Jim Cook severely shot."
Jim Cook had been captured two days later, the newspaper stated, in a pasture near Fort Gibson when two of the outlaws hiding near the
Arkansas River were forced to ride off and leave their companion hidden in the weeds. "A dozen guns were dropped on him at once." When
the posse's gunfire frove the gang from the Halfway House to their horses, young Cook wounded, had been taken alson riding double behind
his older brother. The story described his wounds as "two in the breast, one in the hand and arm, two in the thigh, two in the groin and one in the knee, besides several othe wounds." The reporter described Cook as eighteen years old and "a mere stripling of a boy" who "weighs about 125 pounds and appears like a country youth who has been some of the world and has done more cowboy service than farm work.... He bears his wounds and his capture wit historic indiffernce." Cook was quoted by the paper as saying he and the others had not planned a robbery, but only "had been over to Tahlequah to draw our head right money." The Cherokee guards, he said, had attacked them
without cause. The news story said that Cook was jailed at Muskogee and was wanted in the Fort Smith and Cherokee courts "on numerous grave charges, ranging from robbery to killing the Cherokee guard. He will probably be turned over to the Fort Smith court as soon as this court gets through with him. If there is anything left of him he will probably be handed over the the Cherokees." [As the authorities didn't know who killed Houston, they undoubtedly would have named any member of the gang in the murder change.] Jim Cook later escaped jail and was finally shot to death for trespassing on another man's property. His brother Bill was later captured and tried and given a life sentence in prison, where he died of tuberculosis. Others involved in the Halfway House shoot-out were to meet with more violence. During the winter following the gunfight, Jess Cochran and Jim French were killed in a shooting at Catoosa, a rough town near modern-day Tulsa. It was in January 1895, said Mack Houston, the date of the "black snow," a phenomenon caused by some unusual combination of atmosphere and weather. Two on the side of the law at the Halfway House battle---the Crittenden brothers---were killed a little over a year later at nearby
Wagoner by Ed Reed, son of Bell Starr. Though reports of the incident vary, a common belief is that the Crittendens got in a shooting when
they had had too much to drink and Reed gunned them down on the street. Zeke and Dick Crittenden are now buried under one headstone
in a small cemetery near Hulbert---and only a few hundred yards from the site of the Halfway House. Zack Taylor, in whose store building Sequoyah Houston's body had awaited transportation home, was killed about a year later by Mose Miller and Bill Nails, two outlaws who had ridden through the hills from the town of Braggs to rob his store. He resisted, and was promptly shot down. Stories on the Halfway House incident have differed concerning both the number of outlaws and number of posse men. Some accounts state only the Cook brothers and Cherokee Bill were battling the officers, and that the posse numbered only seven. Jim Cook had told the Phoenix reporter, "There were two besides myself. I will not state their names." But he said another man at the house, who was not of their group, Cook said the house was
'surrounded by about fifteen Cherokee guards." The newspaper at earlier points in the story stated that lawman shot one man whose name was not given before they searched the pasture where the three were hiding, and that "there were about a dozen of the guards as they approached the house and the fight began." The first statement referred to the officers' hunt near the Arkansas River where young Cook was captured. The second was describing the Halfway House incident. Mack Houston says the names of the posse men were told him by its last
surviving member, Bill McKee, who died about eight years ago. [1964] When Sequoyah Houston was shot, his son says, McKee was standing
behind him. Mack Houston says he is also sure that Jess Cochran and Jim French were with the Cooks and Cherokee Bill in the Halfway House. One early account agrees with Mack Houston as to the number and names of the posse men. But published reports as to the number in the Halfway House are vague. History has also been confused by the last name of one of the posse men---Rattling Gourd. One account indicates it was the name of a place where the posse formed. It was not a location, however, but a well-known tribal name in the Cherokee Nation. The family is still represented in large numbers in modern Cherokee County by the Gourds [as with many Indian names, the first part has been dropped]. As a lawman, Sequoyah Houston spent much of his time tracking down horse thieves---generally white men who drove the animals from the open-range Cherokee Nation into Osage country to sell to the Indians there. A quick and accurate shot, he practiced regularly by firing into a huge maple tree on the far bank of the creek from his house. He molded and reloaded his own .44-caliber bullets for both his pistol and Winchester. Agood horseman, he helped heed his family by hunting deer and wild turkey from his white horse---the favorite
animal he always rode during the years his son knew him. His son also remembers him as a striking figure with wide black hat, his
six-shooter holstered on a wide belt with bullets completely around, and boots with high heels and high tops. Houston liked the Cherokee social life of getting together with neighbors for house-raising----community efforts to build one another's homes; rail maulings----another cooperative activity of producing rails for fences; and parties at his home when Houston himself entertained by playing the fiddle. No alcoholic drinks were served at the Houston home get-to gethers---only the favorite Indian beverage of canutche, made from hickory nuts. It was at one of these social affairs that Houston had his nearest escape from death. In what was called an accident---but suspected otherwise---a Winchester shot during one of the cabin raisings sent a ball of lead through Houston's coat, barely missing his body. The slug hit and killed a neighbor, Taylor Sixkiller. "Those were rough times then---there was almost no civilization here at all," says Mack Houston. "When gunfights happened, they were generally over pretty quick---and generally it was after some body got killed. And everybody carried some kind of artillery." He remembers that on Tahlequah's main street which was faced by the Cherokee Capitol---Muskogee Avenue---many homes had wood shutters on the windows so they could be closed at night to hide the light from outside eyes. Often pistol toting drunken Indians and cowboys would get "run out of town," he says, "and they'd get on their horses and go riding up this street and when they'd see a light they'd take at shot at it. There were plenty of roughnecks then, and I don't mean maybe. Everybody carried some kind of firearm and they were quick to use those old thumb-busters. And when a young man was feeling good he liked to warm it up a little." Houston also remembers well his father's burial, in the small Blue Springs cemetery only half a mile from the family's home. "The day of the funeral seemed like the hottest day of the year." It was at the same cemetery where, about a year before his death, Sequoyah Houston told his family of meeting a ghost. He was walking by the cemetery one night to the home of sick neighbors who had asked him for help. Suddenly he saw a man walking ahead of him. Thinking it was the neighbor, Houston hastened his pace to catch up. But when he got near, the man vanished. His family interpreted it as "some kind of warning." Mack Houston's place of business in Tahlequah is on Muskogee Ave, about six blocks north of the old Cherokee Capitol which was transformed into and still serves as the county courthouse. Acting as bailiff in the same court-house is a distant cousin of posse member Ellis Rattling Gourd---Allen Gourd. Sequoyah Houston is buried next to his father, Clostoma Houston, in the little cemetery now almost forgotten by the modern would. Under Sequoyah's name on the headstone is the date of death---June 17, 1894---and his mistaken age---"aged about 40 years," caused by hasty arrangements by a relative who estimated him eight years too old. Both graves are visited regularly by Sequoyah's son whose own lifetime has spanned the most violent era of Oklahoma's history.
Old Blue Springs Cemetery: Sec. 26, R21E, T18N, over twenty seven graves at one time, now only two markers remain. Sequoyah Houston (b) 1854 (d) 1894, and Tla-sto-ma/Clostoma Houston (father of Sequoyah Houston). Several members of the Squirrel family including Charley
Squirrel, and several members of the Sunday family are resting in this first burial place at present Gideon.
"This was an interview of My Uncle Mack Houston. (Pictures and Information Below.) I knew him personally. He married my grandfather's sister Pearl Jane Neel. He used to cut my hair when I was a little girl. He would put a board on the arms of his barber chair for me to sit on and I would get my hair cut. I still miss him."
Submitted by: Willora Glee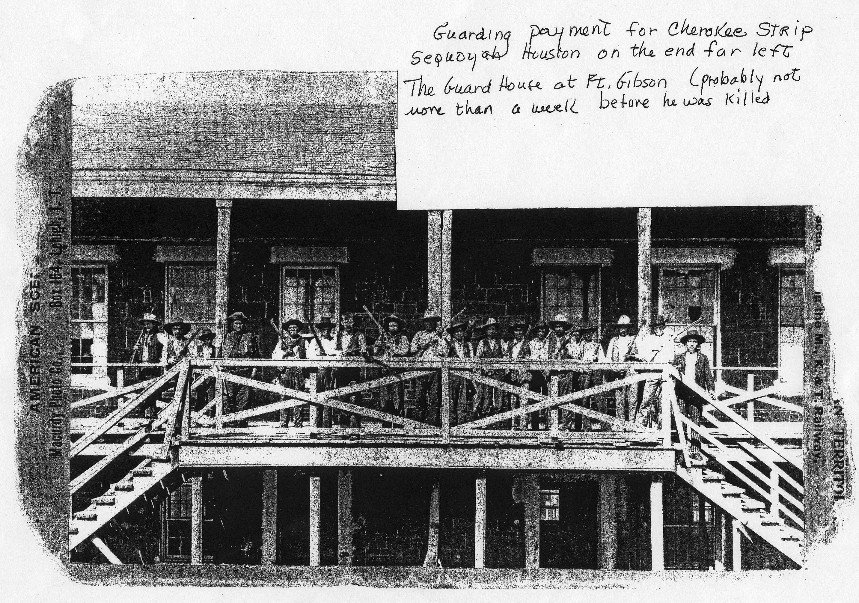 Sequoyah Houston June 1894 week before he died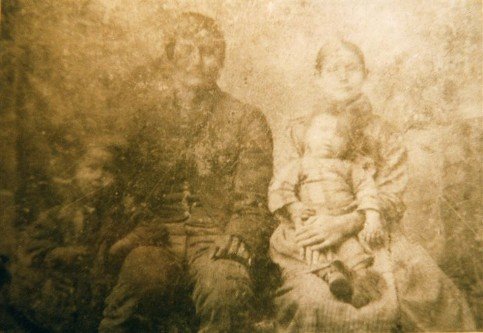 Mack, Sequoyah, Mary Wyrick, & Jack
Here is a picture of Sequoyah with a gun for he was a U. S. Deputy Marshal. He was killed in the line of duty and his name is on a sign in the Ft Smith court house along with others who died in the line of duty. Also a picture of that sign.



Clasthma 1833-1880 grandfather of
Mack Houston



-----------------------------------------------------------------------------------------------------------------------------------
Mack Houston, Son of Sequoyah
Mack Houston who was an uncle to Willora Glee Van Osdol Krapf by marriage to Pearl Jane Neel who was the sister of her grandfather.
Here are some pictures of Mack and his family.
Mack first owned a barber shop in Hulbert in 1918 in 1919 he moved to Tahlequah where he was in the same location on N. Muskogee until
1976. The shop was 6 blocks from the court house. The barber chair was the first hydraulic barber chair in Indian Territory. He bought
the chair "used" in 1919 from a shop in Ft. Gibson. The "Impeial"brand was manufactured 1890 near Chicago and transported by steamboat
on the Mississippi river then on the Arkansas river to Ft Smith then on to Ft. Gibson. Mack was a barber there for over 50 years. Some pictures of him in his barber shop which was on the main drag of Tahlequah. The Neel family were long time residents of Cherokee County. Her mother was born and raised in that county and so was her brothers. Here is a picture of the old home place where she lived near Peggs, where most of the kids went to school at Oak Hill.
He was 1/2 Cherokee and on the Dawes and Miller rolls


Pearl Neel Houston taken before 1910

Houston Mack & Pearl Jane Neel wedding picture 7 Dec 1910




Mack Houston Family 1917

Mack, Pearl, Leonard Mack and his sister Mary Eloise

Leonard was born in 1911and died in 1999.
Eloise was born in 1914. Both were born and raised

in Tahlequah. Leonard died there and Eloise is still living there as far as submitter knows.

Mack in barber chair with unknown friend

Mack Houston in his barber shop with his chair.
Do not know what year this was taken.


Houston, Pearl Neel obit July 1977

Mack & Pearl Neel Houston Tombstone, Tahlequah City Cemetery

Grand daughter of Pearl and Mack Houston, who wrote the book on her grandfather and his Indian family (book cover shown on right). She is buried next to her grandparents in Tahlequah City Cemetery
"My grand parents bought a place just outside of Peggs about 1924 that used to be the Wilkerson place. It was blown away in the 1920 cyclone. My grandfather had a house built there where the old one used to stand. I have pictures of the house. It is still standing but the people who own it now have remolded it a lot. My grandparents lived there till in the late 1950s when then sold and moved to a farm just outside of Hulbert. My three uncles were born there on the old home place as they call it now near Peggs. As far as I know they went to that school and so did some cousins of mine. It is long gone I am sure. Most of these people are dead now."
Here is a picture of the Oak Hill School Class of 1925
"My mother Jewell Neel later Van Osdol has an X over her head. Her brother Jay Edger Neel had a mark over his heard. Bert her younger
brother has his hand up to his face on the far left side of the picture. You really cannot see his face for his hand. I do not know any of the other people in the picture but maybe some one will recognize them. My mother and her two brothers are all dead now."
Copies of the Miller Applications

Some of Mack Houston's Family Pictures



Leonard and Lee Stepp Houston & Girls

Mack Houston's son and wife and two daughters




Mary Elois Houston on right &
unk friend 1930s

Mary is the daughter of Mack and
Pearl Jane Neel Houston




JUDY, JERRY & SUE ANN EMMERSON MACK HOUSTON'S G KIDS

Children of Chester and Mary Eloise Houston Emmerson
Thanks for stopping by.
This page last modified:07/15/14
Join the "You Might Be From Tahlequah If..." Facebook group
for ongoing discussions on the history of Tahlequah & Cherokee County
This page is maintained for the OKGenWeb

God Bless America
A Sincere Thanks To All Contributors !!!!!!
USGenWeb NOTICE: In keeping with our policy of providing free Information on the Internet, data may be used by non-commercial entities, as long as this message remains on all copied material. These electronic pages may NOT be reproduced in any format for profit or for presentation by other persons or organizations. Files may be printed or copied for Personal use only. Persons or organizations desiring to use this material for purposes other than stated above must obtain the written consent of the file contributor.