As the Coordinator for Caddo County I wish to send a special
thank you
to Nancy Charlton, Sheri Hammons, Sandy Miller and any others that have contributed their substantial time and effort to make this site (see the awards) what it is today. My Goal is to continue to expand the resources available on this site while adhering to the high standards of my predecessors. If you would like to contribute to the project I would love to have your information.
E-mail me Mel Owings with questions or input.
The word CADDO is from the
Caddo Indian word "Kadi" meaning "Chief"
Caddo County
named for the Caddo Indian tribe is located in the North Eastern part of the
South Western corner of the State of Oklahoma.
The land now in Caddo County to the North of the Washita River that flows from West to East
dividing the county approximately in half, was part of the Wichita-Delaware-Caddo Indian reservation.
This same approximate area was designated as "I" county in Oklahoma Territory.
The land South of the Washita was part of the
Kiowa-Comanche-Apache Indian Reservation.

The land for both of these Indian reservations, formed by treaty on October 21, 1867,
were part of the leased district, located in the Chickasaw District of the Choctaw Nation,
which was purchased from the Choctaw and Chickasaw Indians
for the sum of $300,000. on April 28, 1866.

The proclamation of Secretary of Interior Ethan Allen Hitchcock dated 24 June 1901,
signed On July 4, 1901 by President William McKinley, opened these reservations for settlement
by land lottery drawing and townsite auction to be held on Aug. 6, 1901.

Near the center of Caddo county a post office was established in 1873 named Anadarko.
This name is from a corruption of the word Na-da-ko, the name of a Caddoan Indian tribe,
which means "place of the bumble bee". The site of this post office and Indian trading post
was later designated the County Seat of Caddo County.

At Statehood Caddo county ceded to Grady County Townships 5, 6, 7, and the
southern part of township 8 North, Range 8 West, which included the town know as Verden.
In 1911 Caddo county ceded
Townships 10, 9, and the northern part of township 8 North, Range 8 West
to Grady County shaping Caddo County as we know it today.
Postcard of Anadarko Courthouse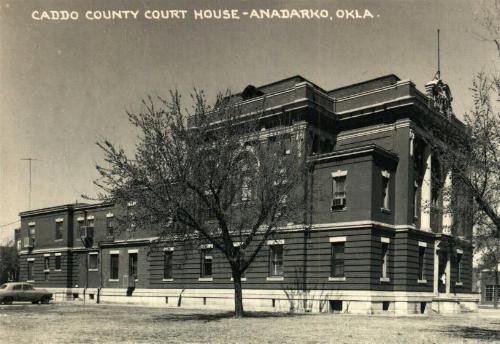 Newspaper articles about Caddo County Courthouse