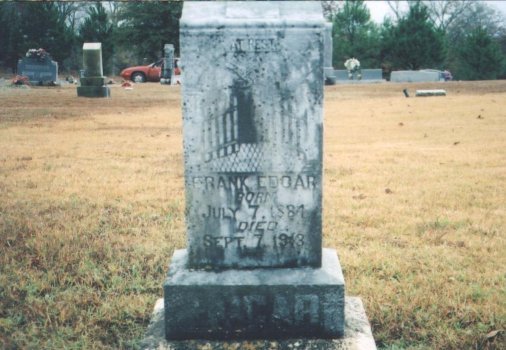 Frank Edgar
7-7-1884
9-7-1913

No obit could be found for Frank, we believe his wife Dora Dililah Banes Ramsey Edgar is buried to the left of him. Her obit is as follows: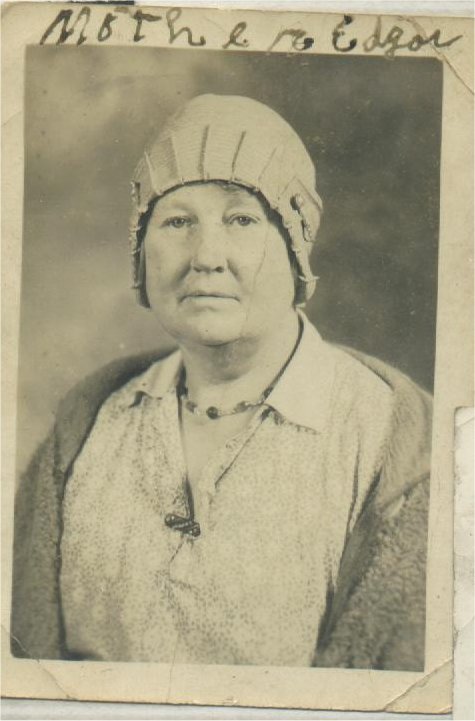 The Atoka News
1-30-1969
A Portion of: Daisy & McGee Valley News by Mrs. Guy Kellog
Just got word that Merle (sic) Edgar's mother pssed away in Atoka
Memorial Hospital Sunday night and funeral and burial will be at Daisy
Thursday

The Atoka County Times
1-30-1969
Hospital admits and dismissals list:
January 24, Admitted: Dora Edgar
January 26, Dismissed: Dora Edgar (exp.)

The Atoka County Jeffersonian
1-30-1969
Edgar Services
Funeral Services were Thursday for Dora Delilah Edgar, 95 year old
Pittsburg lady who passed on January 26 in Atoka hospital.
Atoka Funeral Home and Brother Bob Muncy were to be in charge of
services in McGee Valley Baptist Church. Interment was to be in Daisy
Cemetery.
Mrs. Edgar was born May 18, 1873, at Quitman, Missouri, the daughter
of Dr. and Mrs. L. Baines (sic).
She is survived by two daughters; Minnie Kilfoy of Oklahoma City and
Nellie Smith of Bristow; a son, M.L. Edgar, Sr., of Pittsburg; 17
grandchildren, 42 great grandchildren and several great great
grandchildren.
And three sisters; Della Hillard and Dorsie Hendershot of Panama,
Florida; Dottie Coffey of Wichita, Kansas, and two brothers Ray Baines
(sic) of Illinois and Melvin Baines (sic) of Kansas.
NOTE:Baines should be spelled Banes, Merle should be spelled Merrel
family researchers: great great grandaughters Lisa Wheeler, wheelertree@sbcglobal.net and Bobbi Dunn, bluerose68@gmail.com