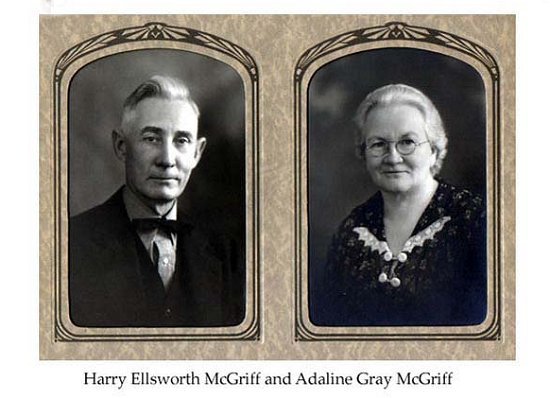 Submitted by: Sherrel Hailstone
Harry E. & Addie McGriff
Harry was born Sep. 23, 1872 in Auburn, Illinois. He homesteaded with his father John Wilson McGriff on either side of the river at Moscow Flats, OK in 1897. He was married to Maude ?? about 1900, but she died of consumption.
Harry and Addie were married Nov. 16, 1904 and made their early

home in Mutual

Oklahoma. They lived there until 1922 when the house burned to the ground. Harry was the

jailor

in Woodward, Oklahoma following the fire and the family lived in the jail with Addie doing the cooking for the prisoners.
They lived there until finally building a new home in Moorland where they lived from 1912 (?) to 1962. Sherrel and Larry had many happy childhood visits to the home in Mooreland.
Harry was undersheriff in Woodward County. In his later years he worked as a night watchman in Mooreland before moving to Woodward in 1961.
Harry was active in the Masons.

Obit: Harry C. McGriff, 93, early day pioneer of the Moscow and Mooreland communities died Monday night at the Young Nursing Home in Woodward.
Funeral services will be held at 2:00 p.m. Thursday, Nov. 4, in the First Christian Church in Woodward with Rev. Barrett Moore, pastor officating. Burial will be in Mooreland cemetery under direction of Stecher Mortuary in Woodward. Mooreland Masonic Lodge No. 387 will also hold graveside services.
Harry C. McGriff was born in Auburn, Illinois Sept. 23, 1872. He moved to a claim in the Moscow Flats in 1897, then to Mutual in 1905. Eighteen years later he moved to Woodward where he served as Jailer and Undersheriff. In 1933 he moved to Mooreland and was Night watchman for 28 years. In 1961 he moved back to Woodward where he and Mrs. McGriff resided at 1407 Main St.
On Nov. 16, 1904 he was married to Addie Gray. He is survived by his wife Addie of the Home; one son, Carl of Palm Springs, Calif; a daughter Lela McGriff, Woodward; two grandchildren and five great-grandchildren.
Death notice: excerpt:
Harry Ellsworth McGriff was born at Auburn, Sangamon Co, IL, September 23, 1872. In 1897 he moved to a claim in the Moscow Flats community. On Nov. 16, 1904 in Woodward he was married Addie Gray. In 1905 they moved to Mutual and 18 years later moved to Woodward where he was jailer and undersheriff. In 1933 they moved to Mooreland and for 28 years he was night watchman for the town of Moorland, retiring in 1953. In 1961 he moved to Woodward and has lived here since that time. he was a member of First Christian Church Woodward, member of Mooreland Masonc lodge, No. 387. He has been a Mason over 56 years.

Back to previous page