"Links to web sites that are not part of the US Gen Web Project are provided for your convenience and do not imply any endorsement of the web sites or their contents by The USGenWeb Project."
Malissa Emeline Haley Family Information
Submitted by Jeff Smith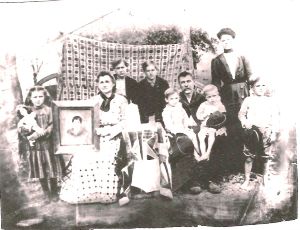 John S. & Malissa Emeline (Taylor) Haley (Seated)
Girl on left with doll is Ruby. Lady standing is Mary Irene (Haley) Walker with son Berlie Eugene Walker.
Standing the back are Joshua Clede and Charlie Rector.
Seated on the lap of John are William S. and Edward E.
Probably taken around 1909-1910
Photo furnished by: Carolyn Cross
Malissa Emeline Taylor, born March 24, 1864 in Arkansas, to Stephen and Arrenia. She married John S. Haley (born March 1858 in Arkansas) on June 18, 1882 in Izard County, Arkansas. Malissa died on 4 April 1933 in Tulsa. She was living at 1523 East 4th St. She is buried at Elmwood Cemetery in Wagoner, OK. The online survey is from headstones only and Malissa does not have one. The Genealogy Society found her listed as
being buried in Lot 1SE 1/4Block 88North Main.
Children of Malissa and John S. Haley were:
Mary Irene, born March 12, 1886 (My Grandmother)
Charlie Rector, born January 24, 1898 (Grew up with his Son)
Joshua Clede , born November, 1895
William (Lived with my Aunt Edna in the 1940s in Tulsa)
Edward
Ruby, born February 1903 (I have more on Ruby)
Ruth
Clara E. born December 1899
Elmore U. born July 1884
All were born in Arkansas
In the 1910 Census, the Haley's show up in Caney, Atoka, OK
In the 1920 Census, they are still there.
In the 1930 Census, Malissa is shown in the Tulsa Area, widowed with Edward and William.
Malissa died 4 April 1933 while living at 1523 East 4th St. Tulsa, OK and is buried at the Elmwood Cemetery in Wagoner County.
She is buried in Lot 1, SE 1/4, Block 88, North Main.
Information posted at Find a Grave.

If anyone knows more or wishes more on any of the above, please email me.
This page last updated on:
07 Sep 2016


God Bless America
OKGenWeb State Coordinator
Linda Simpson
Asst: Mel Owings
© 1996-Present ~ All Rights Reserved
USGenWeb Notice: In keeping with our policy of providing free Information on the Internet, data may be used by non-commercial entities, as long as this message remains on all copied material. These electronic pages may NOT be reproduced in any format for profit or for presentation by other persons or organizations. Files may be printed or copied for Personal use only. Persons or organizations desiring to use this material for purposes other than stated above must obtain the written consent of the file contributor.