This material is donated by people who want to communicate with and help others. Every effort is made to give credit and protect all copyrights. Presentation here does not extend any permissions to the public. This material can not be included in any compilation, publication, collection, or other reproduction for profit without permission.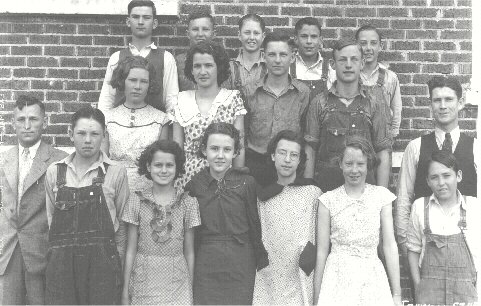 7th grade class of Henderson High School, Frederick, OK 1934.

TOP ROW (L to R): Marshall KITRELL, Wayne GILLUM, Robert ANDERSON,
S.E. HAILAN, William Lynn BLACKWOOD. CENTER ROW: Alice HODGES,
Juanita PETERS, Winfred GILLUM, Bennie KENNEDY, James WILLIAMS (teacher)
BOTTOM ROW: Earl HEWETT (Supt.), Jim DUTTAN, Ernestine TURNER,
Therese ROBERTS, Irene ROBERTS, Floye PORTER, Farris TURNER Jr.
Original held by Floye Custer
Reproduced with permission. All rights reserved.
Contact : Dana Custer