Cow Bell Restaurant
Chelsea, OK


-photographs were submitted by Loral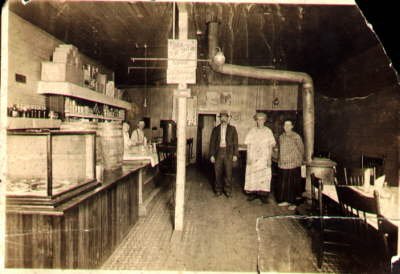 wide view of employees at Cowbell Restaurant
This is a photo of a establishment which was named the "COW BELL" restaurant which was in operation probably in the early 1900's. It was located according to our family album in Chelsea, Rodgers Co. The person in the white shirt and apron is my great uncle Amanzo Harrier, the woman to his left (close to the stove) is his Cherokee wife Belle. The other person wearing the hat is probably a friend or a close customer.

I would like to find what great aunt Belle's last name was and any other available info concerning the Cow Bell restaurant. I inform you for certain that Amanzo was the first son of George Johnson Harrier a civil war veteran, and his mother was Sara Elizabeth Orr. All these folks are from the Danville, Illinois Vermillion Co. area.

Amanzo left Illinois for some reason but while in Chelsea met and evidently married Belle. Then they evidently sold the business and both moved back to so. Danville. Both I believe are now interned in Songer Cemetery located in Tilton, Ill. which is now part of south Danville.

Any info would greatly be appreciated, and of course any other info which I may posses will be passed on.

Thank you in advance. My name is Loral Verhoeven and I am the grandson of one of Amanzo's brothers.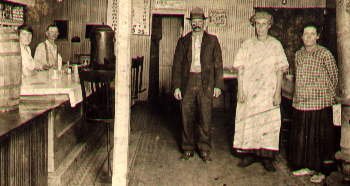 Close up of employees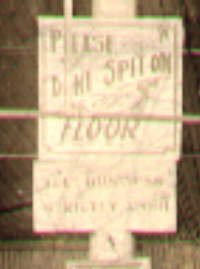 Sign in store "Please Don't spit on floor"!
It was located in Chelsea, Oklahoma and I would guess that the photo was taken in the late 1880's but more probably in the early 1900's before 1913. My great uncle Amanzo Harrier who I believe is probably the man in the white apron owned the place. He was born in Danville Illinois on April 11, 1867 and went to Okalahoma as a young man. While he was there he met a Cherokee lady who first name was Belle. The woman to the right nearest to the stove I think is Belle. He sold out and moved back to Danville, and brought Belle back with him. My mother who is still alive said she used to call them uncle Aman and aunt Belle.
There is no record of Amanzo having a wife by the name of Belle in the Vermillion Co. Illinois records yet we know that she was his wife, that she was Cherokee, and that he did bring her back from Oklahoma and that she is probably buried beside him in the Songer Cemetery in Tilton, Ill.
Would it be possible to see if he married Belle in Chelsea and what her last name was (maiden). Any info on the Cow Belle Restaurant would be interesting also if possible to locate.

Christopher Keele - Coordinator
Gloria Rogers - Research
© 1996 - Present
All Rights Reserved