Nelson / Potter Cemetery
At Find a Grave
Antlers, Oklahoma
Transcribed by Teresa Young. December 24, 2005

Please remember that all photos on this site are copyrighted by Teresa Young.

~ COPYRIGHT NOTICE ~


Do not "contribute" the material (including lists and/or photos) located on this site to other websites. If the original submitter wanted it there they would have contributed it themselves.
This is for your personal use ONLY. Any other use of this material requires consent of the original contributor who retains copyright on their submitted material.
THIS MATERIAL MAY NOT BE REPRODUCED IN ANY FORMAT FOR PROFIT OR PUBLICATION BY ANY ORGANIZATION OR PERSON.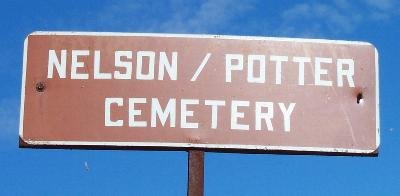 Antlers, Pushmataha County, Oklahoma
Direction: Find the 4-Way Stop Sign in Antlers.
Go Highway West 3, 4.1 miles to Coffee Creek Road. Turn South. Go 1.7 mile until you see Potter/Nelson Cemetery sign on the right side, West.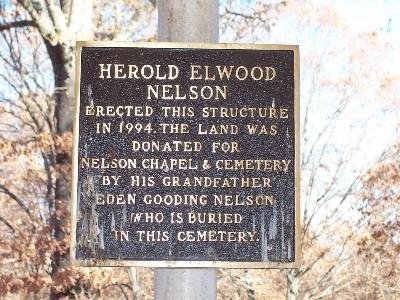 (FHM) means Funeral Home Marker.
(DS) means Double Stone.
(TS) means Triple Stone.
. "m" means Married.

photo by Teresa Young

1 Thessalonians 4: 14-17.
For if we believe that Jesus died and rose again, even so them also which sleep in Jesus will God bring with him.
For this we say unto you by the word of the Lord, that we which are alive and remain unto the coming of the Lord shall not prevent them which are asleep.
For the Lord himself shall descend from heaven with a shout, with the voice of the archangel, and with the trump of God: and the dead in Christ shall rise first:
Then we which are alive and remain shall be caught up together with them in the clouds, to meet the Lord in the air: and so shall we ever be with the Lord. Amen.
Favorite passage of Teresa Young

B



BURGESS, ____, 1906 - 1987 (Mills-Coffey FHM)



BURGESS, Bertha Elizabeth, 28 Dec 1902 - 6 Nov 1964

K



KEE, Baby Girl, 17 Aug 1948 - 17 Aug 1948



KEE, Betty L., 5 Nov 1925 - no death date, Parents of John M. (DS w/ Jessie)



KEE, Jessie M., 22 Jul 1920 - 26 Sep 2004,


CPL US ARMY WWII (DS w/ Betty)

N



NELSON, Rev. E. G., 14 Apr 1866 - 20 Jul 1914 (Husband of Laura)



NELSON, David Thomas, 11 Oct 1924 - 6 Jan 1993,


CPL US MARINE CORPS WWII (DS w/ Grace)



NELSON, Grace E. ROBB, 23 Nov 1922 - no death date, m. 14 Jun 1947, Parents of Patsy & Thomas, Grandparents of Ross & Jennifer (DS w/ David)



NELSON, Herold E., 20 Aug 1926 - no death date (DS w/ Ruth)



NELSON, Laura, 11 Nov 1874 - 25 Aug 1935



NELSON, Osborne, 28 Dec 1897 - 23 Jun 1941, US ARMY WWI



NELSON, Ruth G. ROBB, 18 Oct 1927 - 31 Mar 1981,
m. 26 Jul 1947 (DS w/ Herold E.)



NELSON, Thomas R., 23 Sep 1956 - 20 Feb 1999 (Son of David & Grace)

P



POTTER, Jerusha NELSON, 11 Mar 1899 - 17 Dec 1980 (DS w/ Ronald Robert, Sr.)



POTTER, Nadine ROZELL, 10 Apr 1924 - 21 Jan 2005, m. 14 Nov 1942 (DS w/ Ronald R., Jr.)



POTTER, Ronald Robert, Sr., 6 Apr 1904 - 25 Jun 1976, m. 21 Nov 1922 (DS w/ Jerusha)



POTTER, Ronald R., Jr., 9 Mar 1924 - 9 Mar 1994, Parents of Ronald R. III & Suzanne (DS w/ Nadine)
This material is donated by people who want to help others. Every effort is made to give credit and protect all copyrights. Presentation here does not extend any permissions to the public. This material may not be included in any compilation, publication, collection, or other reproduction for profit without permission.



God Bless America
County Coordinator - April Makerney
County Assistant - Billie Heath
Hosted by OKGenWeb
OKGenWeb State Coordinator
Linda Simpson
Asst: Mel Owings
Copyright 1996-2022 ~ All Rights Reserved
U.S. GEN WEB NOTICE: In keeping with our policy of providing free Information on the Internet, data may be used by non-commercial entities, as long as this message remains on all copied material. These electronic pages may NOT be reproduced in any format for profit or for presentation by other persons or organizations. Files may be printed or copied for Personal use only. Persons or organizations desiring to use this material for purposes other than stated above must obtain the written consent of the file contributor.