Solid South School
West of Cardin, Okla.
Many Thanks to Sammye Darling for contributing this great photo.
Solid South School Class of 1947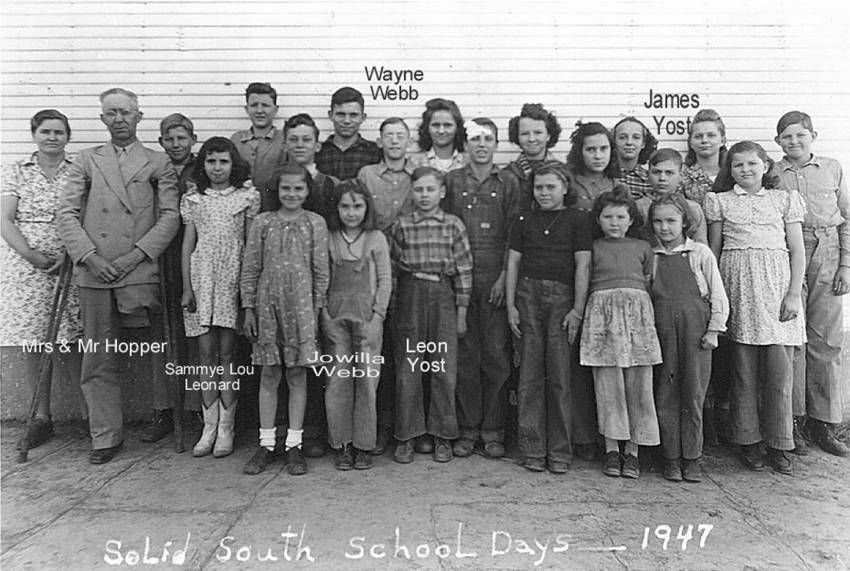 The old Solid South School was a few miles due west from Cardin in the heart of the Miami Tribal land allotments. I believe it was built in the early 1900's. The younger children of Sam and Louisa (Geboe) Leonard attended this one room school house which housed the first through the eighth grades. In 1946 the old cloak closet in the front of the room was converted to a small galley type kitchen and Mrs. Hopper, the teacher's wife, started coming to work with her husband every day to make a lunch for all the students. Usually lunch would be a hot bowl of homemade soup and a sandwich.
These were the days of very strict discipline in the schools and Mr. Hopper had an old, big and thick, hardwood paddle, with holes drilled through it for the purpose of making it really sting. Usually 'naughty girls' only had the palms of their hands paddled but the boys could get a pretty hard beating for insolence, lying, or whatever. I understand that Mr. Hopper had that paddle for most of his teaching career but I saw him break it over one of the older boys back in 1947. The old Solid South School has been gone for many years now, but remains in the memory of those who attended class there.