Mabel Lenore Steward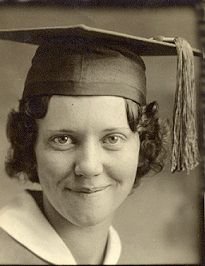 Mabel Lenore Steward, graduated Picher High School, 1934 She was her class Co-Salutatorian with Lucille Harris.
Mabel Lenora STEWARD b: 20 Mar 1917 in Big Piney, Pulaski, MO (home at Tribune) She moved to Ottawa County, OK, when she was three years old, with her parents Clifford Earl Steward and Josephine 'Josie' Bartlett. Mabel had one sister, Cleda Avelia Steward who was born at Picher, OK, in 1922. Mabel is still living & driving at 85 years young.
Mabel married Samuel Alfred LEONARD, Jr, a Miami Indian, b: 21 Jul 1909 in Miami Indian Lands, Oklahoma (NW corner of Ottawa County. Married 09 Mar 1935 Picher, Ottawa, OK src: Original Marriage License in the file of their daughter, Sammye Leonard Darling. Sam died 31 Jan 1973 Moses Lake, Grant, WA His parents were Samuel Alfred LEONARD and Louisa GEBOE.
Mabel & Sam had two daughters: Joyce Anne LEONARD b: 24 Sep 1935 in Picher, Ottawa, OK d: 03 Dec 1935 Picher, Ottawa, OK., buried at G.A.R. cemetery, Miami, OK, and Sammye Lou LEONARD b: 01 Feb 1937 in Picher, Ottawa, OK.