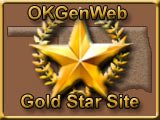 If you would like to adopt
a county in Oklahoma,
visit OK Gen Web


Family Group Sheets/Family Histories
(Missing some of the Links)

Indian Pioneer Papers

Census Transcriptions
Census Free Blank Forms

Census Help

Post a message on OK Gen Web
Message /Query board

County Queries (Updated: Mar 2015)

Roots Web


Mailing List
Queries Board
Town/county database
Resources
Genforum
Linda Simpson
©2015
All Rights Reserved
This page was last updated on 07/13/15

Okmulgee County District Court
314 West 7th St.
Okmulgee, OK 74447
918-756-3042

Court Contact Information


Okmulgee County and the surrounding areas were settled by members of the Creek Nation starting in the 1820s, both through treaties and forced removals over the " Trail of Tears ." The historic Creek Council House in downtown Okmulgee dates to 1878. Indian Territory, as eastern Oklahoma was known prior to statehood in 1907, was settled by Indians removed from their homes in the eastern US. Non-Indians residing in Indian Territory prior to 1907 were registered on "intruder roles", although many slipped though the administrative rules, especially in more populated areas.
Okmulgee County was home to one of Oklahoma's early all-black towns, established under a separatist philosophy espoused by Booker T. Washington. Wild Cat (or Wildcat), later known as Grayson, was one of twenty five such towns established in Indian Territory. According to the Muskogee Cemiter , there were approximately 1,000 inhabitants in this thriving community as of 1905. 1 As with all of the black towns in Oklahoma, the population dwindled over the years. There remain but 64 inhabitants as of the 1994 estimated census.
Okmulgee and its neighboring counties experienced an oil boom in the late 1910s and 1920s, swelling the population of the county seat to the second largest in the state. Many of Okmulgee's downtown area buildings date from this period. An effort is underway to preserve this downtown architecture .
1 Tolson, Arthur L., The Black Oklahomans, A History: 1541-1972 . Edwards printing Co., New Orleans, LA, 1972., pp. 102
National Register Of Historic Places - Okmulgee County

Tulsa County (north)

Creek County (northwest)

Okfuskee County (southwest)