[an error occurred while processing this directive]





Can you help identify the unknown IOOF members in this 1940 photograph?
(click on pic for larger view)
1. Lee Hays 2. Jeff Lemley 3. Robert North 4. Humphrey Rainwater 5.Unknown
6. Bill Norwood 7. Audie Griffith 8. Bill Wilks 9. Art Frye
10. Unknown 11. Unknown 12. Unknown 13. Golden Brandon 14. Willie Smith
15. Ed Marlin 16. Dike Hollenback 17. Jim Gates 18. Turner Bear 19. Fred Ogle
20. Andy Hill 21. Pugh Looper
22. Oscar Dunlap 23. Lawrence Wright 24. Unknown 25. Marvin Williams
26. Kermet Hayes 27. Marvin James 28.Unknown 28. Unknown 29.Unknown
30.Unknown 31. Harry Chenault
Photograph submitted by Earl Griffith <egriffith4@cox.net>
Can you help identify these Oklahoma Lawmen?
approx 1898

(click on pic for a larger view)
George Henry DYAS, is the tall
man standing second from the left. The third
man standing from the left is Jim WALLACE,
deputy US Marshal for the Eufaula area
Contact David Dyas <dyas@igalaxy.net>
(grandson of Henry Dyas)
if you know the identity of the other
men or when the photograph was taken.
Below are pictures of unknown persons.
Click on the images for a larger view.
Please send additinal information or your own contributions to
Ron & Elaine Long <ronglong@adacomp.net>

| | |
| --- | --- |
| | "Shorty Woodruff's friends" |
Does anyone know these people? (Taken at Hanna mid/late 1920's)
Contributed by Roger Woodruff <Roger.Woodruff@tinker.af.mil>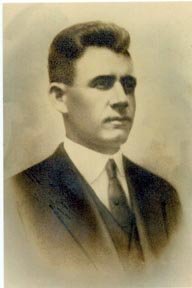 Can you identify this person?
The only identification is the word "Eufaula, Oklahoma" on the back.
If you can help please contact us or Linda Preece



Can anyone identify any of these people?
One of the men is suppose to be my grandfather, John H Baker.
Pat Barlow <pbrlw@yahoo.com>