Cpl. Joyle Deering
Madill, Oklahom
World War ll Veteran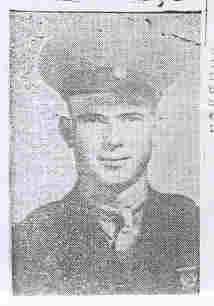 SGT, JOYLE DEERING is an instructor for the U. S. marines at Camp Lejuene. New River, N. C. His address is 3rd. Bn. K. Co. 23rd Marines (Reinf.), T.T.C.F.M.F., Camp Lejuene, New: River, N. C. Joyle is a son of Mrs U. Deering Madill. He is 22, was born in Madill, and attended school here. Before his enlistment December 13, 1941, he was a carpenter.
He spent one year with the 45th divison. Stationed at Fort Sill, then Camp Barkeley, Tex. He finished a third non-commissioned officer's gas course at Edgewood Arsenal, Md. May 29th. Is gong to New River, N. C., as an instructor.
CPL. JOYLE R. DEERING, son of Mr. and Mrs. C. Deering, Madill, was graduated early in June from the non-commissioned officers' staff course held at the Edgewood Arsenal, Md. The course is designed to qualify enlisted men of the marines to fulfill duties of non-commissioned officers in the marine chemical sections. Studies ranged from offensive tactics of gas war-fare to prevention and treatment of gas casualties. Deering enlisted with the marines in 1942. Part of his training was at the big marine base at New River, N. C.
Joyle Deering son of Mrs. Uriah Deering, Madill. Killed February 20, 1945, on Iwo Jima. He was among the first to set foot on Jap. soil. He had been through battles at Roi and Namur Island and was in constant Marine action on Saipan, Tinan, etc. Enlisted with army in December 15, 1941. Spent year with 45th division, then joined Marine corps.
Copyright ©2014
All Rights Reserved