Lewis White Curry b. 6 Mar 1860 d. 23 May 1934
m. 6 Jul 1882
Celestia Letitia "Lettie" Dewey d. 25 Sep 1925
Lewis was a son of George Washington and Ellen Maria (Rankin) Curry. [photo of Ellen Curry and with her grandson Clarence Conrad "Mex" Curry] He was a grocer in Stroud, Oklahoma (Lincoln County) and they lived many years in the Lincoln County area.
Obituary for Lewis W. Curry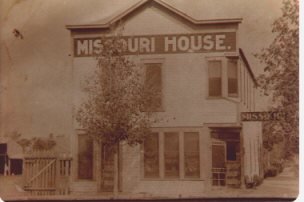 (click for bigger image)
A hotel Celesta (Dewey) Curry ran in Stroud, OK.
Lewis and Celestia had 13 children:
1) Eva Alzina Curry b. 02 Sept 1883 in Pawnee Co., NE. d. 20 Dec 1975 [photo of Eva Curry]
m. 19 Apr 1908, Glencoe, OK
Benjamin Marcus French
Eva was a school teacher and lived the rest of her life in Payne Co., OK but had strong connections to her family in Lincoln Co., OK. She is buried at the Glencoe IOOF cemetery in Glencoe, OK.
Obituary for Eva A. French

Eva and Benjamin had 7 children:
1) Bertha French m. * Musgrave
2) Ralph B. French
3) Bessie French m. * McCoy
4) Hazel French m. * Day
Victoria Day-Cook
5) Vesta French m. * Monroe
6) Kenneth R. French
7) Curtis H. Frence

2) Virgie
3) Clark
4) Elmer Timothy Curry b. 19 Apr 1889 NE d. 1935 [photo of Elmer Curry]
m. Nora Ethel Cargill [photo of Nora Curry and her sister-in-law Mabel Curry, June 14, 1913. The children belong to Elmer and Nora]
Elmer and Nora had 6 children.

5) Mabel Mary Curry b. 29 Jan 1891 Stillwater OK d. Mar 1970 [photo Mabel Curry]
m. Theron Sandell [Sandell family photo]

2 sons survived:
1) Robert James "Sandy" Sandell b. 1916 d. 1942
He was Leader of the Adam & Eve (1st Squadron) of the AVG, a volunteer aviation group called "The Flying Tigers", lead by Col. Claire Chennault.
Sandy was a colleague of Pappy Boyington (who wrote the book BaaBaa Black Sheep, later a tv show starring actor Robert Conrad); however, he did not serve "under" Boyington, but merely "with" him. Sandy was not shot down over China, he was killed on when the tail of his plane sheared off and caused him to crash. Sandy was a "Flying Tiger" Ace.
2) ?? Sandell

6) Ella
7) Paul Curry b. 31 Dec 1894 Payne Co., OK d. 7 Oct 1952 bu. Stroud Cemetery
m. 1918
Lulu Edith Shaw 1918
He's the young man who shot Henry Starr during the bank robbery in Stroud, OK in 1915. In this photograph, he's posing with Henry Starr's rifle. He was a school teacher and a farmer. Paul and Lulu had 4 boys.

8) Guy Curry
9) Dewey Fredrick Curry b. 29 Dec 1898 d. 14 Nov 1987
m. 4 Apr 1926
Eva Eleanor Hayes
Obituary for Dewey F. Curry
Obituary for Eva E. Curry
Dewey and Eva had 2 daughters:
1) Jo Ann Curry Appleby
2) Collen Curry m. Keith Schroeder
10) Lucille Curry m. * Kornman
11) Alma Curry m. * Hinds twin
12) Bertha Curry m. * Arnold twin
13) Clarence Conrad "Mex" Curry was a lawyer and judge in Lincoln Co.