Taloga Barber Shop about 1925
Earl Alden's Barber Shop. Adults in photo unknown, the children may be Earl's, Vincent and Eldon.
Eldon is buried in Mound Cemetery, also his mother Drushia.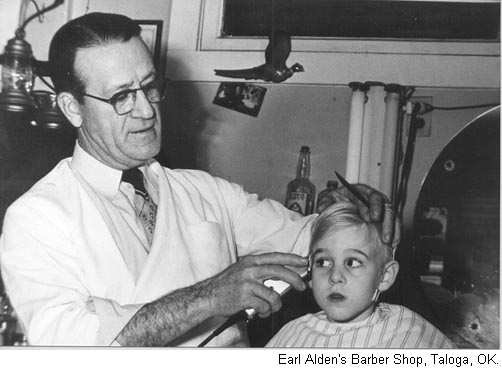 Earl Alden and young customer in Barber Shop.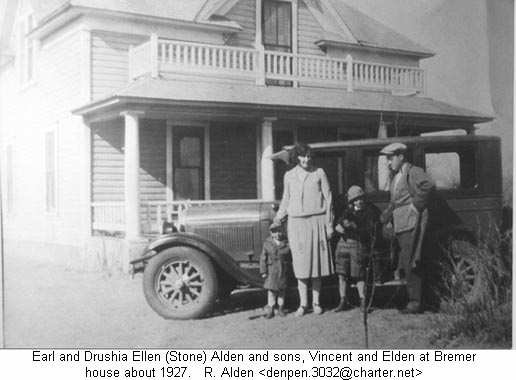 Earl and Drushia Alden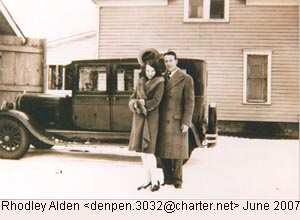 Earl and Gracie Alden
This picture is of the John Henry Bremer family taken in MN in the 1890's. They are, from left to right, top row: Wilhelmina, Emilie and Emma. Bottom row: Gustav, John Henry, Theodore, John and his wife, Catherine. They arrived in Taloga in the 1890's.The following is an excerpt from the
Taloga Advocate
dated 4 Nov 1899: "Mr. John H. Bremer of Brownton, Minnesota, who came here about a month ago, is well pleased with the country and says his health is very good. He is now building a fine two story residence in Taloga which is a credit to the town and he is improving the old Bremer place. Mr. Bremer is a well to do farmer and his settlement here is a great help to the country. Many more such men is what the country needs." John Henry died in 1901 and is buried in Mound Cemetery.
---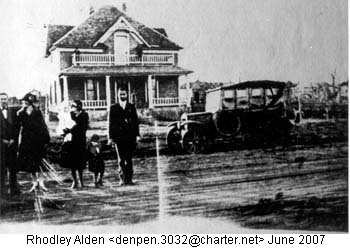 John Bremer died in 1901 and his wife went to Iowa to live with her son, Gustav. Emily and her husband, Lyndon Dean lived in the Taloga house and later, Earl Alden and wife, Grace (Pennington), lived there.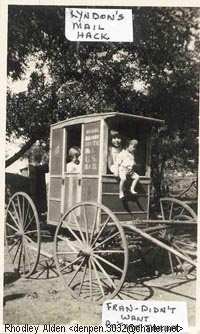 One of the daughters of John Henry Bremer, Emilie, married Wilber Alden in Minnesota. Wilber died leaving the young widow with 5 children. Emilie moved to Taloga. There she met and married, Lyndon O. R. Dean. Lyndon was the town mailman delivering the U.S. mail with a horse-drawn government wagon. When Lyndon, for some reason, could not deliver the mail, Emilie did so.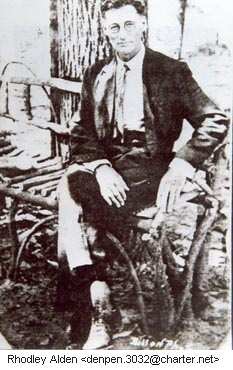 Lyndon Dean, Taloga mailman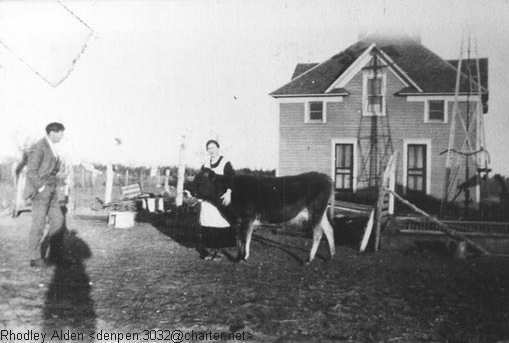 Photo of back of Bremer house with Lyndon and Emilie (Bremer) Alden Dean and cow.
Bremer and Alden relatives of Minnesota promoted "Auto Ball" game.
Taloga Times/Advocate, 27 Oct 1927 "AUTO BALL HERE! F. H. Gibson, general manager of the Northern Auto Ball Circus, has made arrangements for his company to show here on Saturday, October 29th at the Fair Grounds. The company carries five cars especially constructed for this game, also seven drivers and mechanics. Auto Ball is the game which the men play a contest similar to auto polo. A large ball, four feet in diameter is used in this game and the men, driving the cars, attempt to push the ball over opponents goal. Many thrilling scenes are assured while the cars are fighting for the decision and it is common for them to turn over several times during the game. The men are strapped into their cars, while driving in the contest. The Northern Auto Ball Circus has exhibited in all parts of the country and is a real attraction according to the people who have seen its performance."
Taloga Times-Advocate, hursday, November 3, 1927, Page 1, Column 1..
Quite a large crowd from over the county were here last Saturday to witness the auto ball game that was played at the fair grounds. Those that seen it say that the thrills came thick and fast and hope to have the same program put on again at a later date.