JAMES RILEY, OKLAHOMA PIONEER
1855-1903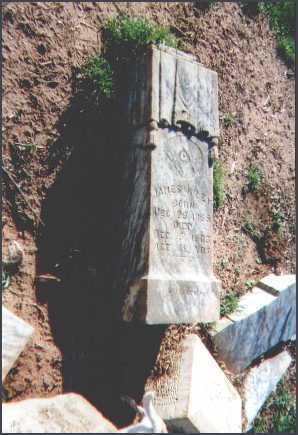 James Riley was one of Western Oklahoma's first settlers. He was born in Ireland and emigrated in 1859. Jim was well educated and clerked for trader Connell at the Cheyenne Agency at Darlington, Indian Territory. He also worked as a carpenter. January 1886, he brought his family from Baxter Springs, Kansas. His wife Nina was a full-blood Cheyenne. They left the Cheyenne agency in Febuary 1886 and settled near Camp Creek in the Cheyenne and Arapaho Reservation, present day Dewey County. The land was opened to homesteaders April 19, 1892. Jim served as precinct inspector in election of January 1893. A month later a new postoffice 10 miles NW of Taloga was named Riley in his honor.
Jim's cattle ranch was recognized as one the best. Rumors said some of the Doolin outlaws found shelter in the deep canyons on his ranch and swapped horses with his stock. Jim was a respectable citizen. He was member of Committee of Reception for Fourth of July Celebration 1895. Jim served jury duty November 1895. Jim and Nina enjoyed the Christmas Grand Ball at Taloga December 1895. They held a dance at the ranch the next month. June 1896, Jim joined other settlers in an injunction suit against the county sheriff and treasurer from collecting a 50 per cent territorial raise from the parties of the petition. Attorneys Temple Houston, Grant Pettyjohn and I. C. Price represented the settlers and obtained the injunction in the court.
This fine pioneer passed away at his ranch December 5, 1903, 48 years, and was laid to rest in his family cemetery. Survived by five children, Mary 17, James Jr. 9, Jennie 7, Helen (Nina) 5 and Hazel 2. Children Minnie and George died in 1892. Wife Nina passed away in 1902. Jim was missed by several communities of Dewey County.
Resources: Cheyenne Transporter 1885 & 1886, Taloga Accident 1893, Taloga Tomahawk 1893 & 1895, Taloga Advocate 1895, Western Oklahoman (Taloga) Nov 2, 1895, Taloga Advocate Dec 10, 1903 and 1900 Census, Oklahoma Terr., Dewey County. Newspaper & census research by Susan Bradford, Rt 1, Duke, OK 73532. Probate research by Patsy Smart.
Photos by Steve Bunch, P. O. Box 357, Mooreland, OK 73852