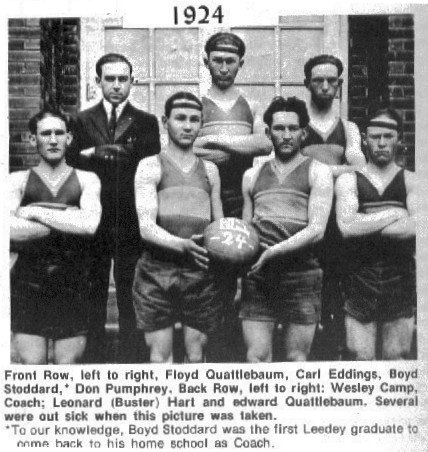 Front row, left to right, Floyd Quattlebaum, Carl Eddings, Boyd Stoddard,
Don Pumphrey. Back row, left to right: Wesley Camp (Coach), Leonard Hart, Edward Quattlebaum.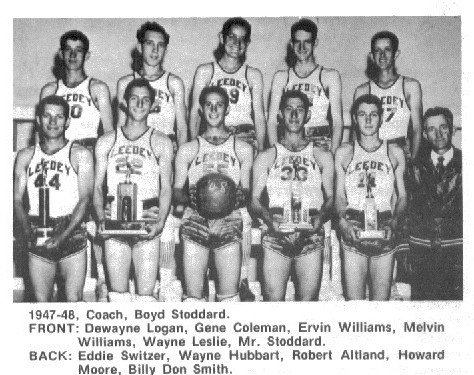 1947-1948 Basketball Team
Front, Dewayne Logan, Gene Coleman, Ervin Williams,
Melvin Williams, Wayne Leslie, Coach Boyd Stoddard.
Back, Eddie Switzer, Wayne Hubbart, Robert Atland,
Howard Moore, Billy Don Smith.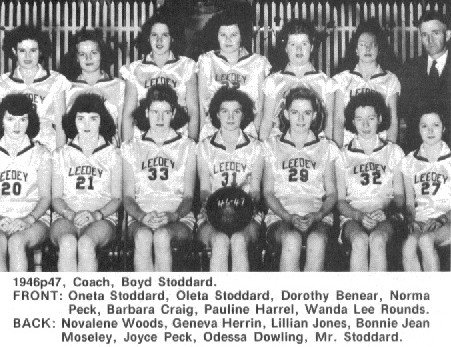 1946-1947 Girls Basketball
Front, Oneta Stoddard, Oleta Stoddard, Dorothy Benear, Norma Peck,
Barbara Craig, Pauline Harrel, Wanda Lee Rounds.
Back, Novalene Woods, Geneva Herrin, Lillian Jones, Bonnie Jean Mosely,
Joyce Peck, Odessa Dowling, Coach Boyd Stoddard.