THEY DIED IN SERVICE
The History of Craig County Its People and Places
Volume 1 C26
Craig County men have answered the call service in all wars since this area was opened to settlement and many made the supreme sacrifice for their country.

This region, as well as other parts of the Cherokee Nation, was populated with men who had served in the Civil War -- veterans of the Confederacy and of the Union cause. They were to watch their sons and grandsons go to war years later.

This part of Indian Territory was well-represented in the Spanish-American War in 1898. Although many were injured, limited records show that Tilden W. Dawson, Vinita, was the only one who died in that conflict from this area. He was killed in the Battle of Las Guasimas, June 24, 1898. The Spanish-American War veterans post in Vinita was named for him.

Nearly 20 years later, Craig County sent its young men to serve in World War 1. The war took a heavy toll. The first reported death of a Craig County man was that of Dale Peace, Vinita. The Dale Peace Post of the American Legion, Vinita, was named in his memory.

The dead from this county also included: Frederick 0. Harvey, William T. Hall, Ira C. Price, Ned Hoskins, Jr., Benton E. Duncan, Harry H. Newman, George F. Newland, Charles Jaques, Lawrence E. Grigsby, Verner E. Bredlow, George Johnson, William H. Hill, James H. Beets, Herbert Dean, Ira Cleveland, George 0. West and Ray Smith.

In a war fought on two broad fronts that began with the bombing of Pearl Harbor, Dec. 7, 1941, the number of casualties from Craig County exceeded all other conflicts combined. There were Craig County men captured in the Philippines and in Europe. There were countless injuries to army and navy personnel. There were men missing in action. And there were many who gave up their lives during that conflict.

An unofficial list of those from Craig County who died while serving in the United States armed forces during World War II include:

---


James Nobel Alexander, Walter B. Arnold, Howard Armstrong

James L. Bankhead, Albert W. Bates, Vester G. Beckham, Ogle Bigknife, Milton R. Bigley, Charlie Bishop, Joseph C. Bridges, Julius E. Bright, Cecil Bryant, * George C. Boston , Jr. *, Chester Bugher

* CORRECTION: George C. Boston Jr. was not killed, but was injured and recovered at Pearl Harbor. He resides in Oklahoma now with his wife Virginia. This corrections is provided by has grand-daughter Melissa Maxey of Oklahoma. *

Lee Everette Carr, Albert R. Christian, Frank Clarkson, Jr., Woodrow Coffman, Harold D. Colvard, Charles Francis Colton, Lloyd Comer, Donald Coppedge, Riley 0. Cox, William Cravens

Wayne Davis, Eugene Dawes, Louis Dupree, Woodrow Craig Egnor

Ed Fansler, Jr., Bernard C. Freeman, Samuel T. Glenn

LeRoy Haire, James Burlyn Hale, Kenneth T. Harrison, Oliver M. Haynes, Jr., William H. Hampton, Grover A. Heltzel, G.L. Hendrix, Jr., Charles A. Holzer, Dallas Horner, Jr.

Raymond C. Johnson, Ralph Keener, Robert L. Kenreigh, Francis J. Koesler

Melvin L. Locklear, Adolphus Luper

A. Dempsey Mills, Winston T. Mills, Owen W. Monger, Everett L. McGee, Perry A. Morgan, George McDaniel

Oliver J. Parker, Albert Pierce
William L. Richardson, Leonard C. Rathjen, Harry W. Rogers

Charles F. Scott, Clarence B. Still, Arthur Dale Stanislaus, William D. Starr, Perry Strickland, Ben F. Slack, Jr.

Elmer Tune, Carl Ventle

Floyd Everett Waldrop, Bearl E. Walker, Leroy Burns Webster, Roscoe Wells, Donald Willy, Leonard Wilkins, Clyde R. Wallace and Gyppie Woodall.


---

Those who died or were MIA in Korea were Arthur Allard, Raymond Allard, Lindy Bridges, Everett Jones, Harold Ruggles, and Elwood Overgard.

Listed as casualties from this county in the Vietnam War were: Harry Everett Dresher, Millard Wade Farbro, Billy Lee Goins, Gary Neal Hall, Jerry William Hill, Billy Gent, James M. McMillan, Jr., and Michael Lee Sloan.

Listed below is the only information we have on Craig County Soldiers.

Pvt Green W. West Pvt. Ira C. PRICE Pvt Daniel L. Peace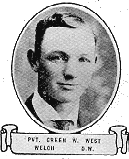 | | | | | |
| --- | --- | --- | --- | --- |
| Name | Rank | Status | Town/City | Photo |
| BEETS, James H. | Pvt | DW | Vinita | No |
| FIELDS, Alexander | Pvt | DD | Ketchum | No |
| GRIGSBY, Lawrance E. | Cpl | DW | Welch | No |
| HALL, William H. | Pvt | Ka | Bluejacket | No |
| HARVEY, Frederick O. | Pvt | KA | Welch | No |
| HOSKINS, Ned | Pvt | KA | Vinita | No |
| JARMAN, Grant A. | Pvt | DD | Welch | No |
| JOHNSON, George | Pvt | DD | Centralia | No |
| NEWLAND, George F. | Sgt | KA | Centralia | No |
| PEACE, Dale I. | Pvt | DW | Vinita | Yes |
| PRICE, Ira C. | Pvt | KA | Vinita | Yes |
| WEST, Green W. | Pvt | DW | Welch | Yes |
---
Other Links
The Oklahoma Spirit of '17
Oklahoma Soldiers Killed in World War 1
1946 State Summary of War Casualties from World War II
NAIL Digital Copies
Killed in Action, Died of Wounds, or Lost lives as a Result of Operational Movements in War Zones, for Navy, Marine Corps, and Coast Guard Personnel from Oklahoma-

CHOOSE -   NAIL Digital Copies Search

COPY THIS & ENTER KEYWORDS  - (NWCTM-24-WWIICASNAVY-OK)

CLICK  -  Submit Search

WHEN RETURNED CLICK - Display Results

CLICK  - FULL VIEW DESCRIPTION

Then you will be able to view the  38 pages.

This list identifies those men on active duty with the United States Navy, Marine Corps and Coast Guard, whose deaths resulted directly from enemy action or from operational activities against the enemy in war zones from December 7, 1941, to the end of World War II. Casualties which occurred in the United States, or as a result of disease, homicide, or suicide anywhere are not included. Entries in the list are arranged into the following sections:


Dead (Combat), Dead (Prison Camp), Missing, Wounded and Released Prisoners, and thereunder alphabetically by name. The list includes the rank of the decedent, and the name, address and relationship of next-of-kin.

---
10-31-99 mgc