| Comanche County | Cemeteries | Photos | Researcher | Pioneers | Records | Schools | Census | Helpful Links |
This site is proud to be a part of the USGenWeb and OKGenWeb Project


The Burnett Family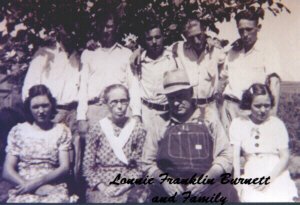 Lonnie Franklin Burnett was born March 30, 1883 in Pine Bluff, Jefferson County, Arkansas to William H.(son of Cornelius S & Nancy A. "Wallace" Burnett of Kentucky) & Lucinda Ann (dau. of Bennett & Lucinda "McElyea" Wright of Arkansas).
On May 19, 1909 he married Joey Ann (dau. of George W. & Martha J. "Johnson" Underwood) in Hart, Pontotoc County, Oklahoma. Joey was born January 04, 1888 in Corsicana, Navarro, TX
Both family moved to Pontotoc County, Oklahoma prior to 1900 and moved to Comanche County, Oklahoma in 1943
Joey Ann died February 22, 1959 in Apache, Caddo, OK and is buried at Sunset Memorial Gardens in Lawton, Comanche County. Lonnie died January 27, 1963 in Lawton and was laid to rest next to Joey.
Family of Sharon Burnett-Crawford