Cemeteries | Photos | Researcher | Pioneers | Records | Schools | Census |
Comanche County
Photographs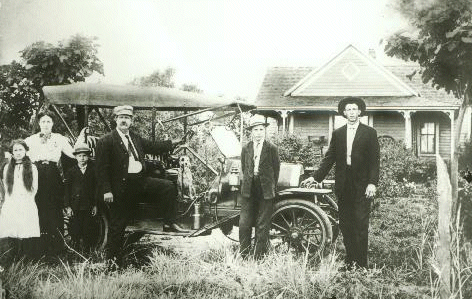 The persons in the photograph are,
L to R: Frankie Monsey, Mary Lizer Hafford McGee Monsey, William Estes "Bill" Monsey, William Barney Monsey, the family English setter, Lester Monsey, and Lewis McGee.
This photo was taken on the quarter section homestead acquired in the Ft. Sill drawing in the early 1900's by William Barney Monsey.
The photo appears to be taken around 1915, judging from the apparent age of William Estes "Bill" Monsey, who later bought the adjoining quarter section and founded the Double M Ranch, three miles east of Sterling in eastern Comanche County.
Bill Monsey and his wife, Lavena, were long time school teachers in the area and in Duncan, Oklahoma.
~ submitted by Duane Monkres of Edmond, OK
Comanche County OKGenWeb
County Coordinator: Linda Simpson


This Page Last Updated Wednesday, 13-May-2015 08:24:18 EDT
Copyright © 2021