Biographies
THE FOREVER BLUM'ing TREE
By Karen White
This was taken in El Reno probably around 1905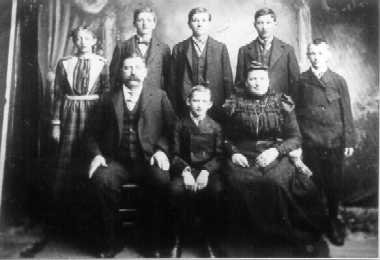 Bernard and Thresia with Peter between them.l
Catherine, Martin, Joseph, Bernard (my grandfather) and Michae
Bernard and Thresia (Schechinger) Blum married on the 2nd day of June 1881 and have the following children. Martin Blum, Henrietta Grass, Peter Blum ( I do not have much info on), Joseph Blum, Gertrude Puegtten, Bernard Blum, Regina Susan Menz, Catherine Cecelia Blum, Michael Reding, Michael Blum ( I do not have much info on), and Elizabeth Blum (She died in infancy)
The family came to Oklahoma Territory packing all their belongings in a rail road car, traveling by day and resting at night.
On the 28th day of April 1903, they bought land in El Reno, Oklahoma from Thomas Thissen for $24,000. The family built a two-story farm house with 12 rooms (its still there today). The sons had their own wagons and mules, they also had their slot machines which they took to Oklahoma City or Yukon Territory.
The Blums were members of the Sacred Heart Catholic Church in El Reno. Ben Blum met Regina Menz and they were married April 16, 1907 in Sacred Heart Catholic Church. Picture taken after wedding of Joseph and Gertrude (Puegtten) Blum, table five February 10, 1909
Martin Blum married Etta Grass on November 19, 1908 and Joseph married Gertrude Puegtten February 10, 1909 in which a huge reception was held at the family homestead (see picture above). Catherine was a fun loving girl and enjoyed dancing where she met Michael Reding and they were married in the same catholic church.
Peter Blum married Irene and they resided in South Dakota. Peter died in 1972 and Irene died in 1982. Their adopted son, Robert Blum married Wilma Blum. Robert died in 1994. As for Michael Blum, I'm still looking for information.
According to the land deed records Bernard and Thresia sold their 640 acres in March 1911 to Louis Stoll of Harlan, Shelby County, Iowa for $40,000. They moved to Nowata, Oklahoma, probably following the oil boom, where they bought the Carrey Hotel and more land. (see 1st issue for more information)
Joseph and Gertrude followed their parents to Nowata as did Martin and Etta Grass Blum. Ben and Regina moved to Calumet, Oklahoma and Catherine and Michael stayed in El Reno.