Genealogy How-to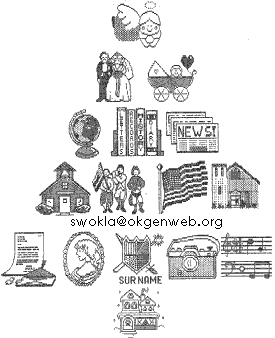 Quick Start in Genealogy
1. Gather all information on your family from relatives and family friends, regarding names, dates of birth, deaths and marriages, places of residence, church affiliations. Gather data from family bibles, letters, certificates, photographs, baby books, wedding books, memorials, obituaries, being sure to note variations in name spellings. Attend family reunions. Visit family cemeteries. Take note of family stories or traditions, they may contain a lot of legend but usually have a grain of truth, and make family history more interesting.
2. Organize the information you have gathered in charts and files to clarify relationships and to indicate omissions. Begin with yourself and work backwards, one generation at a time - parents, grandparents, great-grandparents, etc. - using ancestor charts, family group sheets, a loose leaf notebook, dividers for each surname, notebook paper. Record possibles in pencil, proven facts in ink. Capitalize SURNAMES. Record dates in day-month-year order, 15 Mar 1991. It is a good idea to keep track of research and correspondence with a calendar, even dead end searches. Keep References: Always record the source of your information. For a book be sure to note the exact Title, Author, Date and Page where the information can be found. A computer and Genealogy database helps organize information, easy to edit, sort and search, compile and print reports.
3. Get a map. Study the geographical and historical backgrounds of the periods involved. This can often indicate the factors affecting the people and the are at a given time. The place where your ancestor lived did not move but the counties were divided and county lines may have changed.
4. Visit local public library, regional libraries, state libraries. You can find introductions to researching your family history, regional and family histories, church and cemetery records, census records, area newspapers, published county records of will and estate, and military and land records. And don't forget to check the vertical files! Also, check phone directory for closest LDS Family History Centers.
5. Visit courthouses for county records - Marriage records, Probate records, Land and Property records, Tax lists, Civil suits, Criminal cases and Divorces. County officials may or may not have time to be helpful.
6. Resources: Cemeteries , Funeral Homes and Churches; National Archives, Washington, DC 20408 (for national military records); State Adjutant Generals (State military records); State Dept. of Health (Vital records); Catalogs of Genealogy and History publishers; Cyndi's List for Internet; Rootsweb, USGenWeb.
7. Contact historical and genealogical societies for information on resources they hold, current projects or newsletter. Attend meetings. Submit articles and family histories.Subscribe to genealogy & history magazines.
Good luckand wish you well whether you are starting a school project or following a life-long curiousity. Generally, work on one line at a time. When your line of research hits a brick wall, review.
---
Szuc and Luebking, editors, The Source: A Guidebook of American Genealogy. Since the first edition published in 1984, it has become a standard reference in the field of genealogy and family history
Croom, Emily Anne, Unpuzzling Your Past: A Basic Guide To Genealogy.>>> Concise and well written advice for beginner or experienced.
Everton's The Handy Book for Genealogists. The Everton Publishers, Inc., P. O. Box 368, Logan, UT 82421. >>> A necessity for state and county addresses, also state maps with county lines.
Greenwood, Val D., The Researcher's Guide to American Genealogy. >>> A How-To Genealogy book for the beginner and the experienced.
---
20 Reasons to Come to the Family Reunion
1. A long lost uncle who owes you some money
2. A cousin who thinks your jokes are funny
3. An aunt by marriage who married your boss
4. A relative with the recipe for your favorite sauce
5. A sister-in-law who practices voo-doo
6. A cousin who has the same ailment as you
7. A mysterious stranger that nobody knows
8. The wife of your brother who wears revealing clothes
9. The family "black sheep" who now owns a bank
10. The kindly old auntie you always wanted to thank
11. The nephew who won a Pulitizer Prize
12. Your gramma who makes the world's best pies
13. Your "darling, spoiled" cousin who is now a geek
14. Your ugly cousin who's now "hunk of the week"
15. You brother who played Lotto - and WON!
16. Your twice married sister who is now a nun.
17. The six-foot-tall niece you used to call "Pumpkin"
18. The five year old nephew who's now 30 something
19. The whole family will be glad they came
20. But if you don't show up, it won't be the same.
NGS Newsletter,
May-June 1995
---
Genealogy Pen Pals
Meticulous Mel loves to research and will go anytime anywhere to find anything. He's so meticulous that it's intimidating to correspond with him. He never lets a typo get past him, never writes in the margins. He promptly answers letters the same day he gets them and gently reminds you that you asked the same question he answered for you six months earlier. His findings are superbly filed in plastic page protectors within color coordinated notebooks, with supporting documents in numbered folders in neat file cabinets. His conclusions are yet to be published, but he has included in his will that he leaves his marvelous collection to local historical society.
Listen-To-Me Lollie enthralls librarians and drop in patrons with genealogical wonder tales. Yet, she answers her genealogical correspondence six months later than you expected, telling you all of the family troubles on three long-hand pages, but she hasn't gotten around to doing any genealogical research but hopes you will send her all that you have done. If you do, don't hold your breath for a reply.
Defensive Dan published a genealogy of the family. He assigned some ancestors a wee bit loosely with little or no verifiable proof. If you ask him what his evidence was, he can't tell you, so he just keeps repeating the unproven assertion, hoping you'll tire from asking.
Scattershot Sal asks so many questions that it would be a 2 day job to answer them all ... and expects $33 of info for 33 cent stamp. She reads queries from sixty people with the surname she's looking for and sends every one of them a photocopied letter asking them to fill in a family group sheet. She totally ignores the fact that she's looking for Smiths in Kentucky in 1870 and your query was for Smith in Massachusetts in 1750.
Promising Paul answers your every letter with a promise to photocopy those missing pages which will, you think, complete your ancestry in one line back to the 1600's. He writes each time: "I know I"ve got it, if I can just find time to send it to you. I'll be doing it soon for sure." But, of course, he never does.
Gap-jumper Gert loves to make charts climb. She has her ancestors on one line back to a man in Virginia in 1850. She can't identify his father, but she's sure he's a great-grandson of the family of the same name she's read about in a published genealogy, so she promptly claims those people as ancestors and wants to correspond about them. The gap between her generations means little to her, and the longer it exists, the more likely she is to forget about it entirely.
Brusque Brutus, the Know It All, has all the answers and will not listen to any suggestions of items to check. Brusque Brutus has been a genealogist for 30 years and has no patience whatsover. If he gets a letter without a self-addressed stamped envelope (even from a beginner who obviously didn't realize he was being discourteous by failing to include one), it goes right into the wastebasket. If someone dares to question any of Brutus' findings, the inquiry will be summarily dismissed, because Brutus is sure he's right and won't consider any other possibility.
Naive Nancyis a newcomer to genealogy. She's heard that her ancestors were kidnapped by Indians but later rescued and that she is related to a former President of the United States. She's also heard that a maiden aunt "finished all of our family's history on all lines all the way back," and she wants your help in locating the book "that tells it all." Will believe the first thing heard or seen in print and never believe anything else.
Publication Prudence instructs all correspondents to send her completely filled out group sheets for her upcoming publication which will be "upcoming" for 20 years. By that time, everyone, including Prudence, will have long forgotten it. If only Prudence could get together with her cousin Rushing Rusty.
Rushing Rusty is in and out of the courthouse in 5 minutes. Rushing Rusty announces he's going to publish a family genealogy in six months and sets a specific day as a deadline. Amazingly, he does it. Laggards complain that their lines are left out, but at least Rusty has made a contribution to genealogical literature, which too few of us ever get around to doing.
The Balanced Researcher will take the time necessary to do the job right; will know the rules of the places where they are researching and will abide by them. They will seek to help a library and make their visit remembered with joy. They will record their findings and publish quality works from time to time.
Which one of these correspondents is most like you? . . . I'm sure, to one degree or another, most of us have some of their failings. We hope we have some of their good points too. The fact that we're all different is part of what makes corresponding about our ancestors so much fun.
Adapted from "Familiar Genealogy Pen Pals," J. Wright, The Genealogical Helper, Nov-Dec 1986.
---
Oklahoma GenWeb Beginner's Help Page
Rootsweb's Guide To Tracing Family Trees
Family History Center "How Do I Begin?"

visitors

Genealogy How-To by





Created 9-Mar-1999


© 1999-2022 by OKGenWeb
Report broken links -
include above URL
Last edit September 07, 2016