The Sac & Fox Agency
A part of the OK/ITGenWeb Project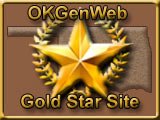 Sac & Fox Agency Location
within Present-Day Oklahoma
In Territorial Days, between the eastern border of the Unassigned Lands of Oklahoma Territory and the western border of Indian Territory, between the Cimarron and the South Canadian Rivers, lay the lands of five small Nations: the Absentee Shawnee, Iowa, Kickapoo, Pottawatomi and Sac & Fox.
Removed to this relatively small area from different places, of different cultural and linguistic stock, all retained their cultural identity and sovereignty to some extent.
Administered by the same Agency, served by related Mission schools, the people also mingled and intermarried. Vastly outnumbered by neighboring homesteaders when their lands were opened to settlement, many were assimilated into the dominant culture. Some of their descendants still live in the area, while others have scattered.
For enrolled members of these Nations, this site offers a means of connecting with like-minded researchers to share family information.
For others, whose ancestors were assimilated so long ago that they no longer know which Nation they belong to, it offers information that may help in tracing their roots.
The Agency Section is the original gateway for this site. It provides both the standard resources and general information pertaining to all of these groups. For example, it is the place to go to find most of the maps.
Or you can now use one of the buttons below to go to the pages that pertain to just a single Nation/Tribe:
Most of the available information is now online. To post a query, go to the Queries page for instructions.
The following OKGenWeb County Sites also cover the area formerly covered by the Sac & Fox Agency: Cleveland, Lincoln, Logan, Oklahoma, Payne, and Pottawatomie.
ITGenWeb's Indian Country provides general background and links to other sites related to the settlement of the Twin Territories. The latest addition is a section regarding the 1900 Census of both Oklahoma Territory and Indian Territory. It includes lists of the Enumeration Districts, descriptions of most of them, cross-reference lists that help locate an E. D. with respect to present-day counties rather than Territorial boundaries, and a number of maps.

Visitors since Feb. 4, 2000
Linda Simpson
Coordinator
Updated 8/2014
© 1997-2014 OK/ITGenWeb
All Rights Reserved