Sequoyah - T13N-R21E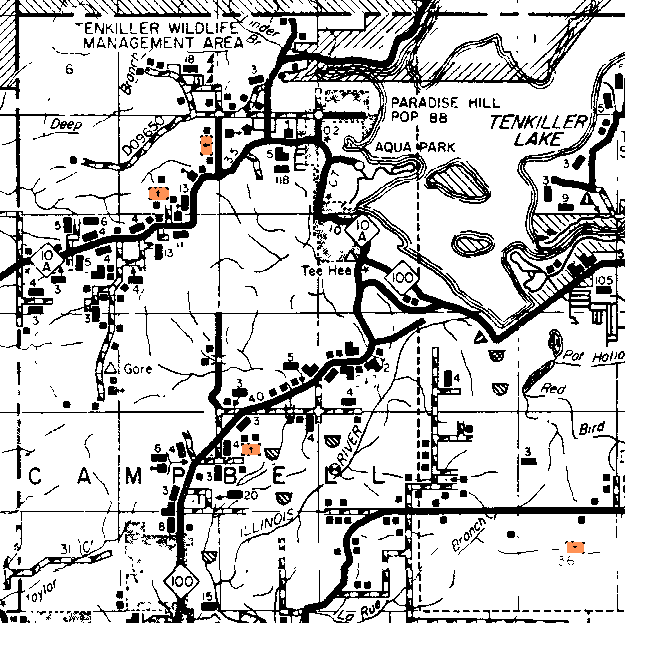 | | | | | | |
| --- | --- | --- | --- | --- | --- |
| Cemetery | Directions/Comments/Links | Sec | Latitude | Longitude | Quad |
| Gore Cemetery | See T12N-21E | | 353124N | 0950719W | Gore |
| Red Bird Cemetery | See T13N-22E | | 353425N | 0950057W | Gore |
| Stevenson Cemetery | See above map -- it's the one in the northeast corner of the section. | 8 | 353709N | 0950533W | Gore |
| Still Cemetery | See T12N-21E | | 353153N | 0950554W | Gore |
| Tee Hee Cemetery | See above map -- it's the one in the south central part of the section. | 8 | 353642N | 0950603W | Gore |
| Tony Cemetery | See Above Map | 28 | 353515N | 0950406W | Gore |
| Wilson Cemetery | See Above Map | 36 | 353335N | 0950143W | Gore |
The Northern Boundary is near 35º38' and the Southern Boundary is between 35º33' and 35º34', so Gore & Still can't be in this township.
The Western Boundary is about 95º08' and the Eastern Boundary is near 95º01', so only RedBird can be eliminated.
Click on cemetery name for more details from GNIS. Use Lat/Long and Quad name for consulting conventional maps or searching Terraserver and Topozone for cemeteries not shown here.

Page last updated on
Wednesday, June 07, 2023
This site maintained by Mel Owings