Ewers White



Submitted by: Marti Grahm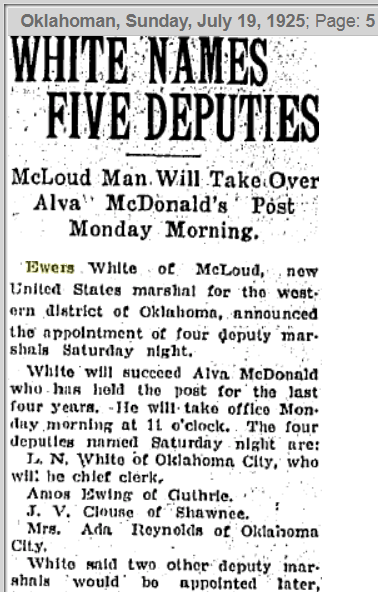 Oklahoman, Sunday, July 19, 1925; Page: 5

WHITE NAMES
FIVE DEPUTIES
McLoud Man. Will Take Over
Alva McDonald's Post
Monday Morning.

Ewers White of McClouud, new United States marshnl for tho western district of Oklahoma, Announced the appointment of four deputy marshals Saturday night.
White will succeed Alva McDonald who held the post for the last Four years. He will take office Monday morning at 11 o'clock. The four deputies named Saturday night are:
L. N. White of Oklahoma City, who will he chief clerk, Amos Ewing of Guthrie.
J. V. Clouse of Shawneee,
Mrs. Ada Reynolds of Oklahoma City.
White said two other deputy marshals would' be appointed later.

Ewers White, Sr. US Marshall, died May 1926 @ Guthrie, Logan County, OK
SOURCE: Oklahoman Newspaper, May 26, 1926, pg 1


Return to the previous page