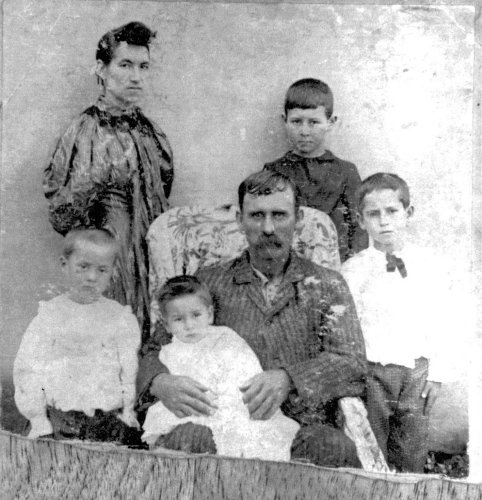 Submitted by: neffhur@yahoo.com
Thomas H. Whaley, wife Nancy Ellen Lucas, children from left: Orb Webster Whaley, Harvey H., Tom Jr. and Paul (Bud) Thomas H. Whaley. Photo taken in Hughes Co., while they lived in Newburg/Atwood.
Thomas Henry Whaley- Special Dep. Marshal and Dept. U.S Marshal 1912-1920- (between Ft. Smith and Hughes Co. area.)
born: 31 March 1863 Gainesville, Cooke Co. TX
his father: Thomas F. Whaley b. 1828 TN mar. 5 April, 1849 Rhea Co TN d.15 Aug. 1873 McMinn Co TN.
his mother: Mary Ann Howell- Rhea Co. TN
Nancy Ellen Lucas Whaley-wife of U.S. Marshal Thomas H. Whaley. She should be on Dawes Roll.
born: 27 Aug. 1865 died: 30 Dec. 1896 in Newburg, I.T.
her father: John Preston Lucas her mother: Charlotte Bennett
Orb Webster Whaley: born 6 Oct. 1897 I.T.
These boys attended Calvin Day School, Choctaw Nation c.1904. Their father Tom was a trustee for the school.
See next page.
Back to previous page