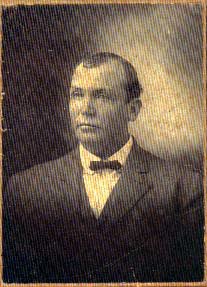 © 2000-Present Helen Wyers
John W. Wyers - U. S. Marshal
Haskell County, Oklahoma
Bio © 2000-Present Helen Wyers
John W. Wyers was proud of his service as an United States Marshal; his tombstone in Stigler, Haskell County, Oklahoma has the inscription, "U. S. Marshal of Indian Territory." In 1904, he was appointed Field Deputy United States Marshal for the Central District of Indian Territory. He remained in that position for four years.
In 1910, he received an appointment from the Department of Interior, United States Indian Service as "Private" in the United States Indian Police Service for Union Agency, Oklahoma. One of his duties, as spelled out by a letter from the U. S. Indian Superintendent in 1912, was to assist the liquor officers of the department. Their goal was to suppress the introduction of liquor in the five Civilized Tribes.
John ran for Sheriff of Haskell County, Oklahoma in 1920. His advertisement in the Stigler newspaper said, "I solicit the vote of every man and woman in the county regardless of their past party affiliation, who stands for a strict inforcement of the laws and a clean and dry county." His victory as a Republican was a surprise to the largely Democratic area, and he was sworn into office January 6, 1921.
Just a little over a year later, on January 25, 1922, John died. One of his obituaries stated, "Mr Wyers served his country faithful as an officer and citizen and now goes to meet his reward."

Back to previous page