John Wilson McGriff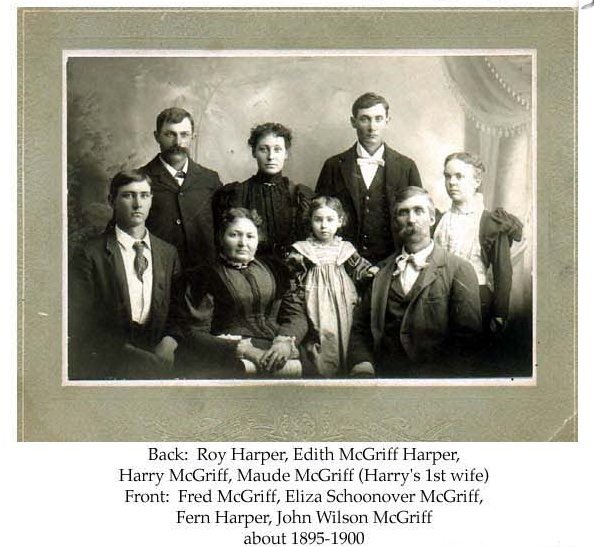 Submitted by: Sherrel Hailstone
John Wilson McGriff was born near Columbus, Ohio, January 13, 1845, and died at Halstead, Kansas Hospital, Wednesday, March 14, 1928. He was 83 years, two months and one day old at his death. He was the son of Mr. & Mrs. Isreal McGriff and one of a family of 12 children, one brother and three sisters surviving.
He enlisted in Company D of the 35th Ohio regiment and served three years in the union army, later receiving an honorable discharge. During the past few years he attended several National encampments of the Grand Army of the Republic. *(See

papers

)*
In 1871 he was married to Eliza Schoonover of Auburn, Ill, and moved to Kansas, locating near Wichita where he resided until 1897. The family then came to Woodward county locating on a farm six miles north of Mutual where he has made his home for the past 30 years. His wife passed away on Armistice day, November 11, 1918.
Mr. McGriff was converted at a meeting of the Woodward gospel team at Mutual in 1913 and joined the Methodist Episcopal church to which he has held his membership and has been an attendant at its services. He was also a member of the Independent Order of Odd Fellows for more than 40 years. He was a charter member of the Goddard, Kansas lodge.
He leaves to mourn his departure two sons Harry of Woodward, Fred of Moscow and one daughter, Mrs. Roy Harper of Moscow, besides a brother, C. J. and sisters, Mrs. Leona Brunk, of Kansas City, Mrs. Mart Staats of Newton, Kan., and Mrs. Ella Cassity of Manson, Wash. There are also 13 grandchildren and two great grandchildren.
Funeral service was held Sunday at the Community building, Mutual, with the Methodist minister, Rev. McMullan, in charge. Interment was in the Moscow cemetery.

Back to previous page