James Mayse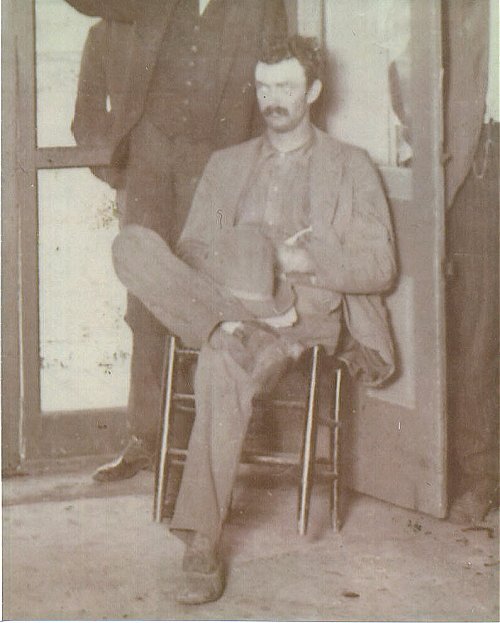 &copy 2001-Present by: Marvin Lewis
JAMES MAYSE PASSES AWAY
Taken from Nowata Star 3 May 1917
James Mayse, former sheriff of Nowata County and one of the pioneers of Indian Territory, died Tuesday morning at 11:10 o'clock at Excelsior Springs, MO. where he went in the hope of benefiting his health. Death was caused by Bright's disease. The entire community was shocked when the Star posted a bulletin Tuesday afternoon that Mr. Mayse had passed away.
Mr. Mayse was born October 22, 1854 at Crab Orchard, KY, and moved to Missouri when he was a Small boy. When a young man he moved to Indian Territory and 30 Years ago (1887) he moved onto the farm which he owns near Childers, where he lived until 1913 when he took Office as sheriff and moved to this city. The deceased was one of the men who Organized the Anti-Horse Thief Association in this county and was one of the leaders in the crowd of courageous men who cleaned the outlaws out of this part of Indian Territory.
He served as deputy United States Marshal under United States Marshal Crump, receiving his appointment Dec. 22, 1894, and serving for two years. He made an excellent record as a United States officer. In 1912 he was nominated by the Democrats as their candidate for sheriff and Elected in November of the same year. He was re-elected to the office two years later and his term of office expired Jan. 1 or this year. He proved an efficient sheriff and while in in that position made many friends in this city, who admired him for his honesty and other sterling qualities. Mr. Mayse health had been bad since the day when Mark Forman and other prisoners killed James Gibson in their successful attempt to break jail. At that time the prisoners over powered the sheriff and he was badly bruised in the fight which he made to prevent their escape. He never again recovered his health, which grew steadily worse until the end.
He was a member of the B. P. 0. Elks, Odd Fellows and Eagles lodges of this city. He is survived by a daughter, Miss Gracie Mayse, of this city, and four sisters, Mrs. Sarah Bailey, of this city Mrs. Ella Scamahorn, of Delaware; Mrs. Mary Knox. of Hennessey and Mrs. Angeline Chappell of Plattsburgh, Mo.

Back to previous page