Joseph Henry Willard, US Deputy Marshal
Submitted & &copy by: Frank E. Vanderbilt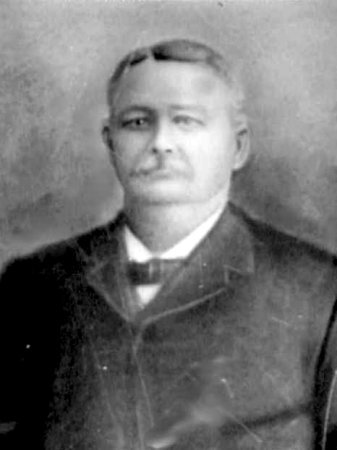 After one hundred and six years, Joseph Henry Willard's resting place in Fort Smith's Oak Cemetery has been identified with a monument.
Joe's 5GGrandfather was Major Simon Willard who immigrated to Cambridge, Massachusetts Bay Colony, in 1634 from Horsmonden, Kent, England.
Joe's father, Samuel Morrison Willard, was born in Rockingham, Vermont ca 1812, enlisted in the 3rd Infantry at Albany, New York in 1829 and was stationed in Indian Territory, at Camp Pheonix, which was later to be known as Fort Towson.
Samuel married Martha G. Oates in Pulaski County Arkansas in 1837. They had six children, all born at or near Fort Towson, Choctaw Nation. He was discharged in 1840 with the rank of Sergeant. It is assumed that he remained at Fort Towson as an Agent for the Quartermaster until about 1850. He was a Justice of Peace in Crawford County, Arkansas in 1853. Postmaster at Hochubee, Indian Territory for five months in 1858. He was listed as living with his family in the Upper TWP, Sebastian County Arkansas in the 1860 U.S. Census.
Samuel was an Agent for the Quartermaster at Fort Smith in 1861. He was Commissioned a Captain, Assistant Commissary of Subsistence GSA on General Albert Pike's Staff, 17 February 1862. His last assignment was Post Commissary at Doaksville where he was on the Staff of Major General Samuel Maxey, 15 June 1864. He remained there until the end of the war.
Joe, like his father, joined the Confederate cause and enlisted as a Drummer on the roster of A Company, 3rd Arkansas Infantry, Fort Smith Rifles. The National Archives reports J. Willard as slightly wounded during the battle of Wilson's Creek, Missouri 10 August 1861. His brother Charles, was a musician of Captain Spark's Company A, Fort Smith Greys. His brother William, had gone to Vermont prior to the Census in 1860 where he was living with his grandparents. William enlisted in the Union Army, the 2nd Regiment, Company C of the Vermont Volunteer Infantry. He served four years as a Drummer.
During the war the family moved to the Choctaw Nation, where Joe married Susan J. Davis, daughter of Thomas P. and Elizabeth Davis ca. 1866. They had five children and lived for some time in the vicinity of the Council House near Trahern Station. Susan was the postmistress at the Council House Post Office. She died ca 1879.
After Susan's death the children were sent to live with different aunts. Joseph remarried.
Joseph was a Deputy U.S. Marshal under Marshals Britton, Roots, Sarder, Fagen and Dell. He quit when Upham was appointed, but was again commissioned as a deputy when Dell became Marshal in 1881.
The following is a story concerning his death which was printed in the Fort Smith Elevator February 6, 1885:
"COME HOME TO DIE, JOE H. WILLARD DIES UNATTENDED AT THE CITY HOTEL IN THIS CITY"
"On Saturday night, January 24th, Joseph Henry Willard, well known in this community and all over Indian Territory, walked into the City Hotel about 10 o'clock and asked for a room, was assigned to one and remained quietly about the hotel, complaining of not feeling well, though he was able to be out everyday.
He appeared to be in a very despondent frame of mind, and seemed to avoid making his presence in the city generally known. He ate comparatively nothing and would retire to his room at an early hour in the evening and remained in bed until 10 or 11 o'clock every day. Mr. Pat Keating usually went to his room before retiring to see if he desired anything, but always met with the same answer, "nothing wanted".
Thursday night Joe went to his room about 7 o'clock and retired. About 10 o'clock Friday some of the boarders sleeping in adjoining rooms heard groans in Willard's room, but as he had been groaning every night some, no attention was paid to it. About 10 o'clock Pat Keating was called, and going to the room found Joe in a dying condition on the bed, with froth issuing from his mouth. He immediately sent for a doctor and endeavored to arouse the dying man, but to no purpose. Dr. Saunders came in time to witness his death, and pronounced it heart disease, and a corners' jury rendered a verdict in accordance with his views without a post mortem examination of the body.
In his overcoat pocket was found an Odd Fellows traveling card and a certificate of membership to a Good Templars Society. On the back of the latter was written in pencil the following:
"If anything should happen to me I wish my friends to write to my mother, Mrs. M.G. Willard, Goodland, IT., and also to my wife, Mrs. J.H. Willard, Guilford Centre, Vt. I am very sick and have been sick ever since I left home. I am an Odd Fellow, as my traveling card will show, and am entitled to $50 from the lodge for funeral benefits - Wamtrastiquet Lodge No. 5, Brattleborro, Vt. My effects consisting of one trunk, one valise and umbrella, I would like sent to my mother.
J. H. Willard
This note contained no date, but was apparently penned on Thursday night as the penciling was fresh and bright.
Joe Willard grew to manhood in this city, but the close of the war found him located in Indian Territory, where he married and for a long time resided at Brazil Station, about 35 miles from here.
He was a Deputy U.S. Marshall under Britton, Roots, Sarger & Fagen, but quit that business when Upham was appointed and moved to the Chickasaw Nation near Goodland. (Goodland is in the Choctaw Nation. His mother and two sisters lived near Goodland.)
When Dell was appointed Marshal in 1881, Joe again obtained a commission as deputy, and while over in Texas for the purpose of arresting a party named Harry Tennon, in some way killed a Negro. He immediately recrossed Red River into the Territory and went home, being pursued by officers from Texas. When the officers arrived at his house, Joe gave them a successful "stand off" and after they retired he picked up and left the country, since which time he has not been heard of in this part of the country until he turned up here on Sunday night, above stated, and was probably direct from Vermont. He was well dressed and his trunk contained a good wardrobe both of summer and winter clothing, but he had no money.
He stated to Pat Keating that the killing of the Negro in Texas was an accident, but he feared the consequences of trial at time it occurred and left the country to avoid arrest; That now, Martin, the man who was with him, was dead, and also a Negro that was a witness to the killing; That the affair had completely broken him up; That he was tired of being a fugitive and thought he would go back out there and have the matter settled.
He was probably on his way home when he came here. His death is clothed in considerable mystery, and while some pronounce it suicide, others scout the idea and aver that it was heart disease with which he had been afflicted for some days. We give the above account in order that the public may be able to judge for themselves.
The following letter was also found in his pocket which shows how he has been employed a part of the time since he left the Territory.
"McLean Asylum, Somerville, Mass. July 29 1883.
This will certify that Joseph H. Willard has been employed as an attendant in this asylum for five and a half months. In attention to his duties he has been regarded as a well-disposed man, and he is kind hearted and amiable in his dealings with the patients and others. I think he will undertake to perform faithfully any service for which he may be employed.
Edward Cowles, M.D.
Superintendent"
His remains were interred in the Oak Grove cemetery, and the expense of his funeral will likely be paid by the Odd Fellow Lodge above mentioned of which he was a member in good standing. His traveling card having been issued to him in January this year"
Joseph probably had good reason to flee from Indian Territory. According to Frederick Calhoun's THE LAWMAN, "U.S. Marshals and their deputies from Indian Territory, According to Frederick Calhoun's THE LAWMAN, "US Marshals and their deputies could count little on the leaky umbrella of federal protection if they were arrested by state authorities. The Marshalls remained exposed to punishment and penalty for any acts they took in line of duty that were not covered by individual laws or court orders."
Judge Parker had strict rules concerning a death caused by one of his lawmen. He demanded that a death which occurred in the process of making an arrest be thourghly investigated. Any deputy with sufficient evidence against him had to stand trial for murder. (Chronicles of Oklahoma Vol.LXVII #2 p156)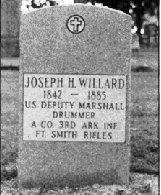 Joe Willard was buried in Block 6, Range 4, Lot 10, Row 1, Grave 5.
A military type monolith has been erected in his memory. It appears in the adjoining photo.

Back to previous page