Deputy Special Officer Jess A. Stine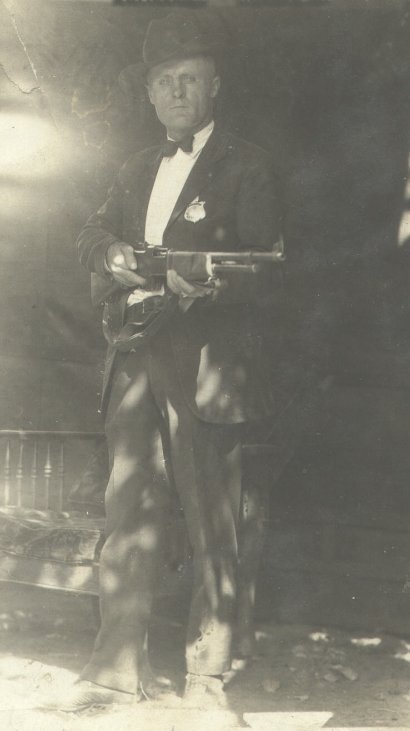 &copy 2001-Present by: Lynne Pitchford
Jess A. Stine
DOB: 28 March 1886 Camden, Linn Co., Missouri
DOD: Unknown - disappeared
UNITED STATES DEPARTMENT OF THE INTERIOR
INDIAN SERVICE
WASHINGTON
July 1, 1920
WHEREAS, reposing special confidence in the integrity and ability of (signature) J. A. Stine I hereby commission him a Deputy Special Officer to assist in suppressing the liquor traffic among the Indians and authorize him to fulfill the duties of that office under authority of law (34 Stat. L., 1015, and 37 Stat. L., 519), and as authorized by the Department of the Interior
This Commission expires June 30, 1927 unless sooner (signature) Chris H. Burke, Commissioner of Indian Affairs Signature of Officer J. A. Stine
STILL, MASH AND 3 MEN CAPTURED
December 4, 1924
Wednesday Morning Near Hochatown-Local Officers Made Arrest
Wednesday afternoon Officers Jess A. Stine, of Clebit, Jack Nease, of Hugo, and J. E. C. Hough, of Broken Bow, returned from a raid up in the hills near Hochatown. They captured a very large still, 1000 gallons of mash and 50 gallons of whiskey and three men, Ab Ashford and son, and Richard Allen. Allen tried to make a get-a-way, but a fusillade of shots from an automatic caused him to calmly return.
Complaint was filed before the U. W. Commissioner at Hugo, and preliminary hearing will be held later. These officers are doing a splendid work, and deserve the encouragement and co-operation of the citizens.
DEPUTY STINE WINS HONORS AT SHOOTING
McCurtain County Man Wins In Contest at Sheriffs' Convention
Winners of the pistol shooting contest at the Hoffman Arms Rifle range was announced last night and J. A. Stine, A McCurtain County deputy sheriff was announced winner.
J. A. Stine, Broken Bow, won first place with a score of 46.
D. A. Marlow, of El Reno won second place with a score of 45.
Mr. Beacham, won 3rd place with a score of 44.
Most of the visiting officers who were there for the convention took part in the contest.
The first prize for this contest was a made-to-order gun offered by the Hoffman Arms Company, second prize was a silver handled 44 Smith & Wesson Special revolver and third prize was a Stetson hat.
McCurtain county is proud of the distinction conferred on it by Mr. Stine in winning this contest, which was participated in by the best marksmen of the State.
It is useless to say the County is proud of such citizens and officers as Mr. Stine.
Back to previous page