John A. Hunt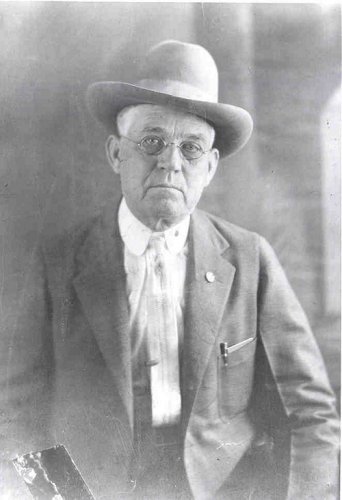 &copy 2000-02 & submitted by: Dr. William Hunt
This photo was taken about 1930
John A. Hunt came to Indian Territory with his family in 1873 when he was 8 years old; he grew up in what is now LeFlore County. In 1897, the family group moved to Hartshorne where they established businesses. After statehood, several of the family moved back to LeFlore County.
John A. Hunt served law enforcement, as follows:
1901 -- City marshal of Hartshorne, I. T.
1902-1905 -- U. S. Deputy Marshal, Central District, Choctaw Nation, I. T.
1906-07 -- Justice of the Peace, Hartshorne, I.T.
1912 -- U. S. Deputy Marshal, Poteau, Oklahoma
1913-20 -- City Marshal, Poteau, Oklahoma
1921-22 -- Sheriff, LeFlore County, Oklahoma
1938 -- Night marshal, Talihina, Oklahoma
1939-1950 -- Justice of the Peace, Talihina, Oklahoma
The Daily Oklahoman gives the following summary:
"His first peace officer job was that of city marshal in Hartshorne in 1901. He then became a deputy United States marshal under B. F. Hackett, McAlester, in what was known as the central district of the Choctaw Indian nation. He was justice of the peace in Hartshorne one term.
"Oct. 12, 1912, he was again appointed deputy U. S. marshal under Grant Victor. He worked out of Poteau. On Sep. 1, 1913, he became city marshal of Poteau. He was elected sheriff of LeFlore county in 1921. . . . (In 1938) Talihina need a night marshal, a job he held for nine months. . . in 1941 (1939) he became justice of the peace in Talihina . . ."

Return to the Lawman & Outlaw W Page